My Bailey's Hot Chocolate Bombs are a little twist on the original craze that's been all over social media. The original version are little spheres of chocolate filled with hot cocoa powder and marshmallows. You pour hot milk over them, and watch the marshmallows pop out of the shells. It's really fun.
I've wanted to try these forever, but I wanted to put my own twist on them. Because I don't like most hot cocoa mixes. I prefer my hot chocolate to be made with a dark chocolate syrup or with actual chopped up chocolate. I guess you could call me somewhat of a hot chocolate snob 🙂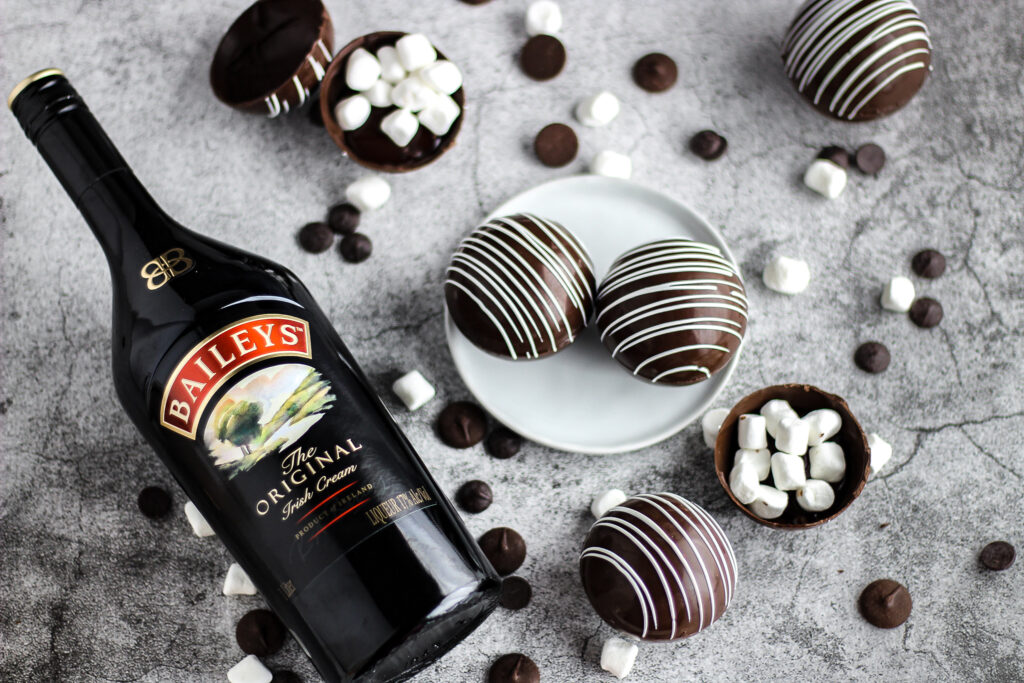 So I decided use a chocolate ganache instead. So it's like let's do hot chocolate bombs, but make them gourmet. And if that's not enough, let's be grown and add Bailey's to the mix. I'll admit, it's a little extra work (not much tho), but it's makes for a really good hot chocolate.
A few tips to help guide you…
You will need a silcone hemisphere mold. You can find those here.
The chocolate ganache in this recipe is made at a 1:1 ratio. This means when it cools it should be scoopable and not hard. I'm using bittersweet chocolate chips, but you can use any chocolate chips you'd like with this ratio. Except white chocolate because it doesn't act the same as regular chocolate. You'd need to reduce the amount of cream.
Make sure your cream isn't too hot. It could burn you chocolate (and the milk actually).
You don't have to use Bailey's to make the ganache. If you'd prefer a non-alcoholic version you can use the same amount of heavy cream.
To make your spheres you'll want to use chocolate melting wafers or candy melts (those don't taste great, so I'd stick with real chocolate). Other types of chocolate would require tempering, and that's way above the skill level we want to go for this. This is suppose to be fun.
Be gentle when removing the chocolate from the molds. First gently break away the sides, then focus mostly on pushing from the bottom as you peel away the sides.
Make sure the plate or pan used to melt the edges of the hemispheres is warm, not hot. If it's too hot, your chocolate will melt too fast.
There's a video below if you need a visual!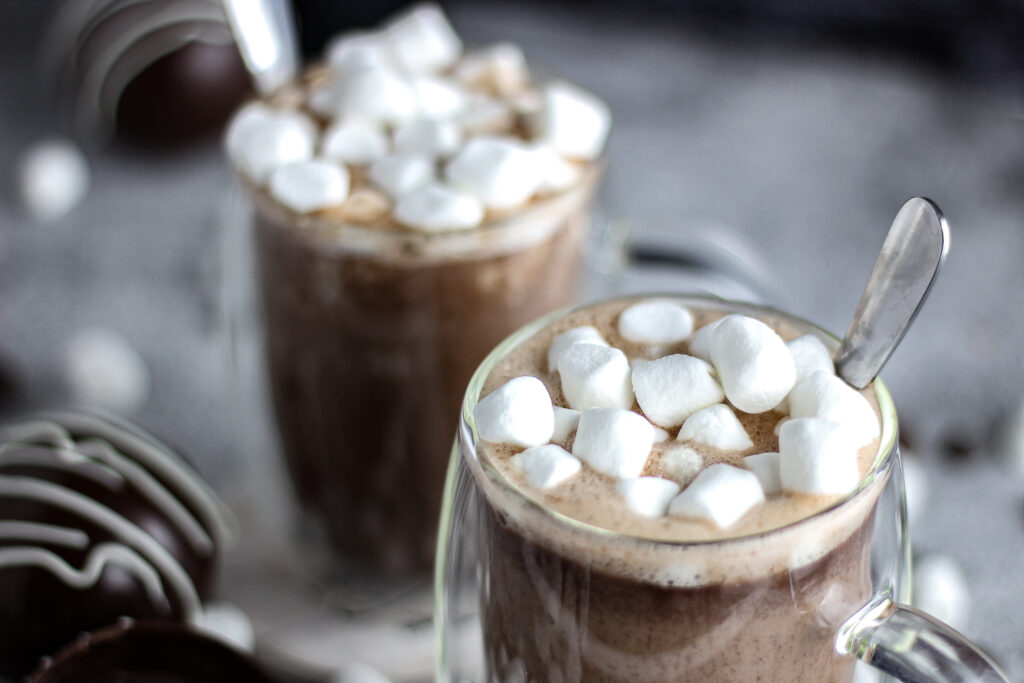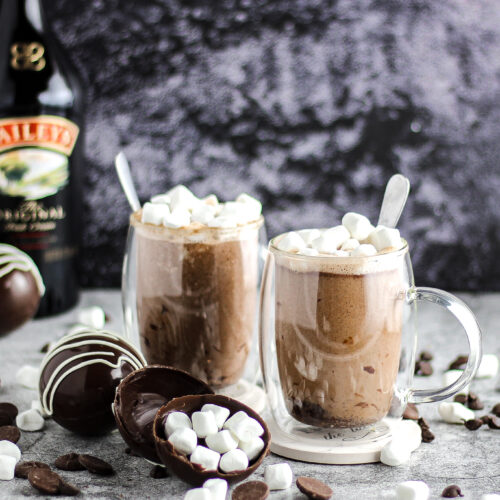 Bailey's Hot Chocolate Bombs
Ingredients
Bailey's Chocolate Ganache
½

c

semi-sweet chocolate chips

½

c

Bailey's Irish Cream

*you can use heavy cream if you'd prefer a non-alcoholic version
Hot Chocolate Bombs
10

oz

melting wafers or candy melts

mini marshmallows

Bailey's chocolate ganache
Instructions
Bailey's Chocolate Ganache
Heat Bailey's cream on stove or microwave until just at a boil.

Pour hot cream over semi-sweet chocolate chips. Let this sit for about 2-3 minutes.

Whisk to combine chocolate and cream.
Hot Chocolate Bombs
lace the chocolate wafers into a bowl and heat for 30 seconds. Stir. Continue these steps until all chocolate has melted.

Coat your mold with a layer of chocolate. Refrigerate for 5 minutes to set

Add another coat of chocolate to the top area of mold and any areas that may be thin. Refrigerate for 5 minutes to set.

Carefully remove chocolate spheres from molds.

Melt the edges of one hemisphere using a warm plate or pan. Add about 1 tsp of Bailey's Chocolate Ganche. Fill with mini marshmallows. Melt the edges of another hemisphere and use this to top the filled sphere. Continue this process until all spheres are completed.

Add your completed hot chocolate bomb to a mug. Pour warm milk over it, and watch the magic unfold. Enjoy!
Video