Jump to Recipe
Combining white chocolate chips and rainbow sprinkles help bring the birthday cake flavor into a cookie!
These cookies are inspired by my best friend. She absolutely loved birthday cake everything, all the time. Whenever I'd see birthday cake flavored anything, I'd tell her about it or buy it and send it to her. One year, I sent birthday cake cake pops across the country to cheer her up (she was also obsessed with cake pops at the time). The excitement in that FaceTime call will never be forgotten. I cherish memories like that so much more now. Unfortunately, I can't pack these up and send them to her because she's no longer with us. But I'll always have the memories. So, Happy Birthday Friend. Miss you.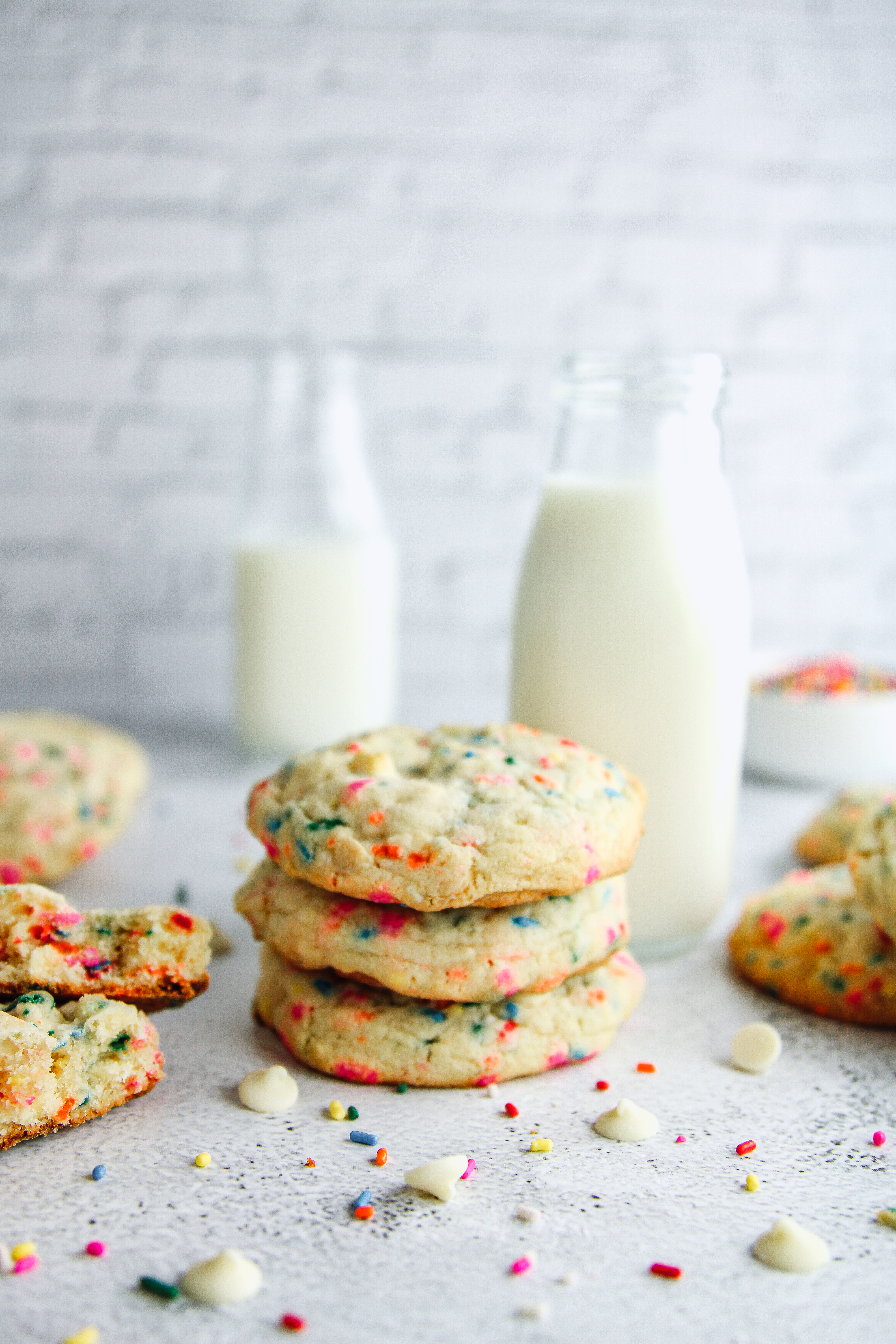 Key Recipe Notes:
The extracts: The vanilla and almond extracts are what really make the birthday cake flavor.

The key with vanilla, use imitation vanilla extract. I know. But listen, I wouldn't tell you to use it if it didn't make a difference. I love a good quality vanilla more than I can even describe, but it just doesn't work here. That imitation vanilla flavor is what you need to get that classic birthday cake flavor. That's just what it is.
With almond extract be very careful with how much you use. It's VERY strong and things could go bad very quickly if you use too much. It could be omitted if you absolutely don't want to use it. You'd still have the birthday cake flavor, I just think this makes it more so.

Butter: Be sure your butter is room temperature. It's actually even ok if it's somewhat a little cooler than room temperature. Just don't let it be melty. We want these cookies to be more cakey than chewy. A plus, you don't have to refrigerate them before baking.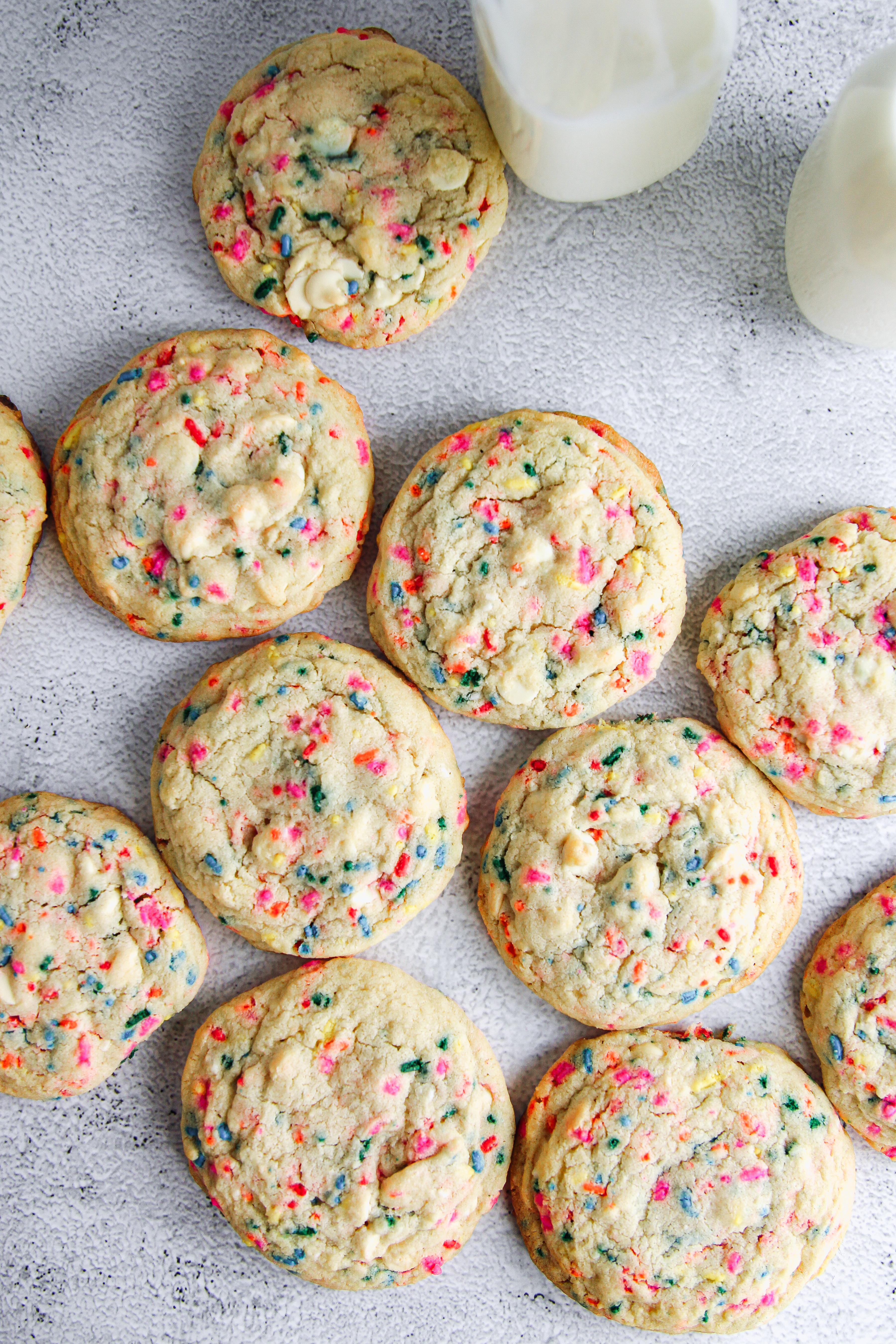 Birthday Cake Cookies
Makes 12-15 large cookies
Ingredients
1

c

unsalted butter, room temperature

1

c

granulated sugar

½

c

light brown sugar

2

large eggs, room temperature

2

tsp

vanilla extract

*imitation vanilla preferred. See blog for details

¼

tsp

almond extract

2½

c

all purpose flour

1

tsp

baking powder

½

tsp

salt

1½

c

white chocolate chips

½

c

rainbow sprinkles
Instructions
Preheat your oven to 350 degrees F and line a baking sheet with parchment paper.

With a whisk, electric mixer, or stand mixer with paddle attachment, mix the butter and sugars until well combined for about 1 minute. Then beat in the eggs and vanilla until combined. 

In a separate large bowl, whisk together the flour, baking powder, and salt. Slowly add the dry ingredients to the wet ingredients and beat on low-speed just until combined. Add white chocolate chips and sprinkles. Mix on low speed until just incorporated into the dough.

Measure 3 heaping tablespoons of the dough or use a large cookie scoop. Place dough balls on cookie sheet, give them a little space in between.

bake the cookies 15-17 minutes or until the edges of the cookies begin to turn golden brown. They will look a bit underdone in the middle, but they continue to cook once out of the oven. Don't over bake!

Cool the cookies on the sheets for 5 minutes to allow them to set up. Remove the cooled cookies from the baking sheets and transfer to a wire rack to cool completely. Makes 15 large cookies.