Jump to Recipe
This is a twist on traditional coffee cake, adding blueberries for a little brightness. The bakes up tender and moist, and goes perfectly with a cup of coffee or tea in the morning.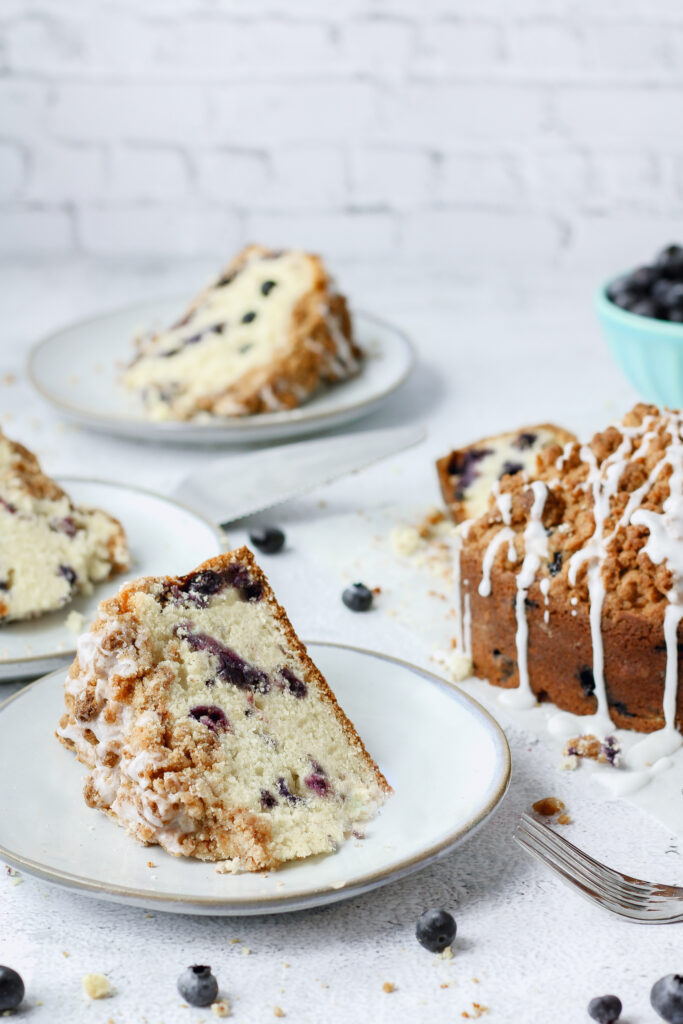 Special recipe notes:
Streusel topping: Many people make this topping by adding cold butter to the flour and sugar then mixing it in with their hands. Somewhat by accident, I figured out that using room temperature melted butter actually works alot better. Using this method, you can mix everything with a fork which makes for less mess. I'm all for using my hands, but when it comes down to it, I'm a much bigger fan of less mess. The ingredients also combine a little better, so the streusel tastes better. Also, make sure the butter is room temperature and not too warm. It's fine if some of the butter has solidified a little while cooling. Warm butter will leave your final result greasy.
Cornstarch: You may be wondering why we're adding this. We've essentially made quick version of cake flour. The added cornstarch will help make the cake more tender. I've found that some versions of this recipe can be a bit dense, so this addition helps to soften the formation of gluten in the cake. You could just use cake flour instead, but I don't actually keep that around. If you'd like to substitute, replace the all-purpose flour and cornstarch with 2.5 cups of cake flour.
Cream cheese: As I mentioned, coffee cakes can be a little dense, cream cheese will also help lighten and lift the cake.
Pan choice: For this recipe I chose to use a 9″ springform pan. In my opinion, this is the easiest route to go if you don't want to serve your can straight form the pan it's baked in. Otherwise removing the cake becomes a little messy because of the crumb topping. It is also possible to use a regular 9 inch round or square pan as well. If you want to remove the cake from one of these, be sure you let the cake cool completely. And I really do mean completely. When the cake if fully cooled it'll be more sturdy. A warm, soft cake is more flexible and is more prone to the crumbs detaching and going all over the place. Cool if that's your thing, but I'm guessing you don't want that.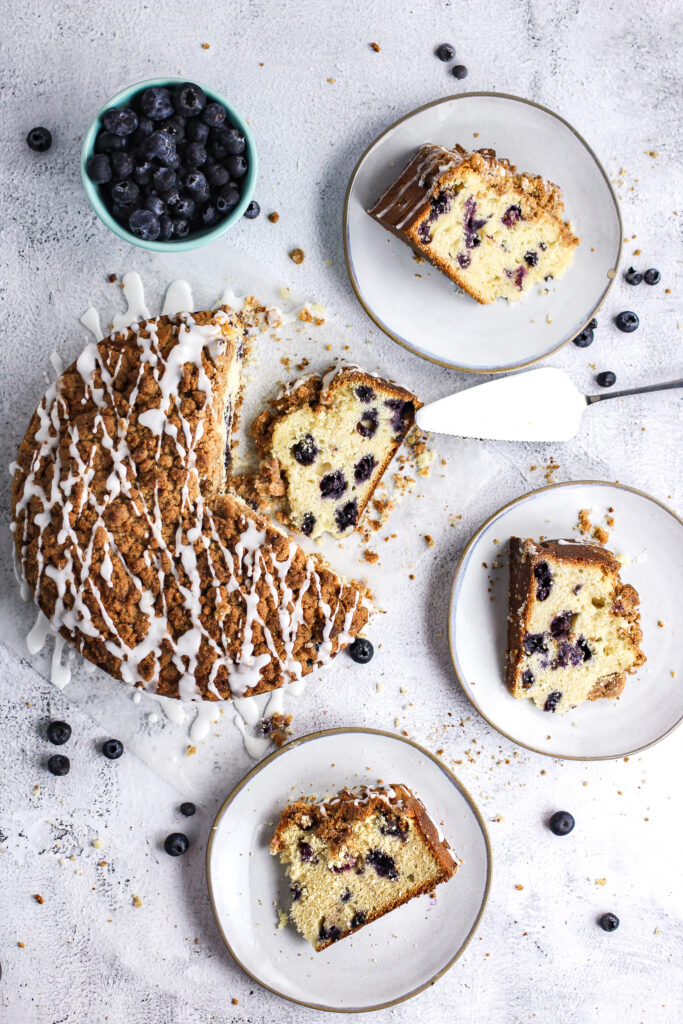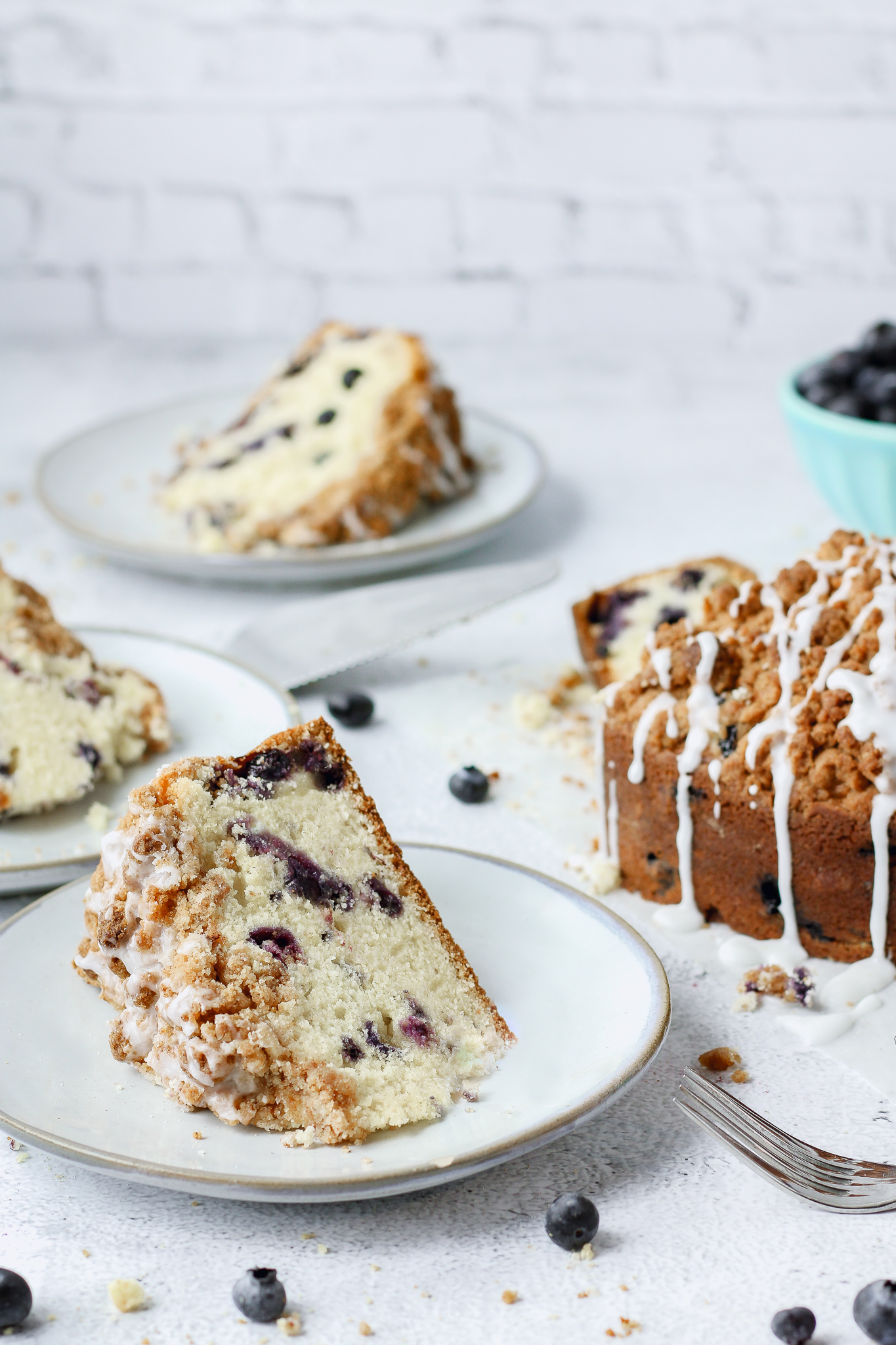 Blueberry Coffee Cake
Uses a 9" round springform pan. Recipe will also fit a regular 9" round or square cake pan.
Ingredients
Streusel Topping
1

c

all purpose flour

⅔

c

light brown sugar

2

tsp

ground cinnamon

¼

tsp

salt
Blueberry Coffee Cake
2¼

c

all purpose flour

¼

c

cornstarch

2½

tsp

baking powder

¾

tsp

salt

½

c

unsalted butter, softened

½

c

cream cheese, softened

1

c

granulated sugar

½

c

light brown sugar

3

large eggs

2

tsp

vanilla extract

10

oz

fresh blueberries, washed and dried.
Vanilla Glaze
1

c

powdered sugar

1-2

tsp

milk
Instructions
Pre-heat oven to 350F. Prepare springform pan with non-stick spray or other pan release method.
Streusel Topping
In a bowl, add streusel ingredients. Mix until combined.
Blueberry Coffee Cake
In a medium bowl, whisk together flour, cornstarch, baking powder and salt. Sit aside.

In the bowl of a stand mixer add butter, cream cheese, granulated sugar, and brown sugar. Beat until mixture has lighten and is fluffy. About 3-5 minutes.

Add eggs one at a time, making sure each is incorporated before adding the next.

Add vanilla extract, mix thoroughly.

Add dry ingredients, alternating with buttermilk until incorporated. Mix for about 1-2 minutes total.

Bake at 350F for 55-60 minutes. Baking time may vary depending on your oven and pan size. You'll know the cake is done when the middle springs back when you press it, or if a toothpick can be inserted and comes out clean.

Let the cake cool completely
Glaze
In a small bowl, add glaze ingredients. Mix until combined.

Once cake is completely cooled, drizzle glaze on top
Video