Jump to Recipe
So I'll tell you now, this is not your basic chocolate chip cookie. The recipe starts with brown butter, then we add DARK brown sugar, bring in TWO types of chocolate chips, and round it out with a sprinkle of course sea salt. The final product is a decadent cookie with a perfectly complex flavor profile. Its like perfection in your mouth.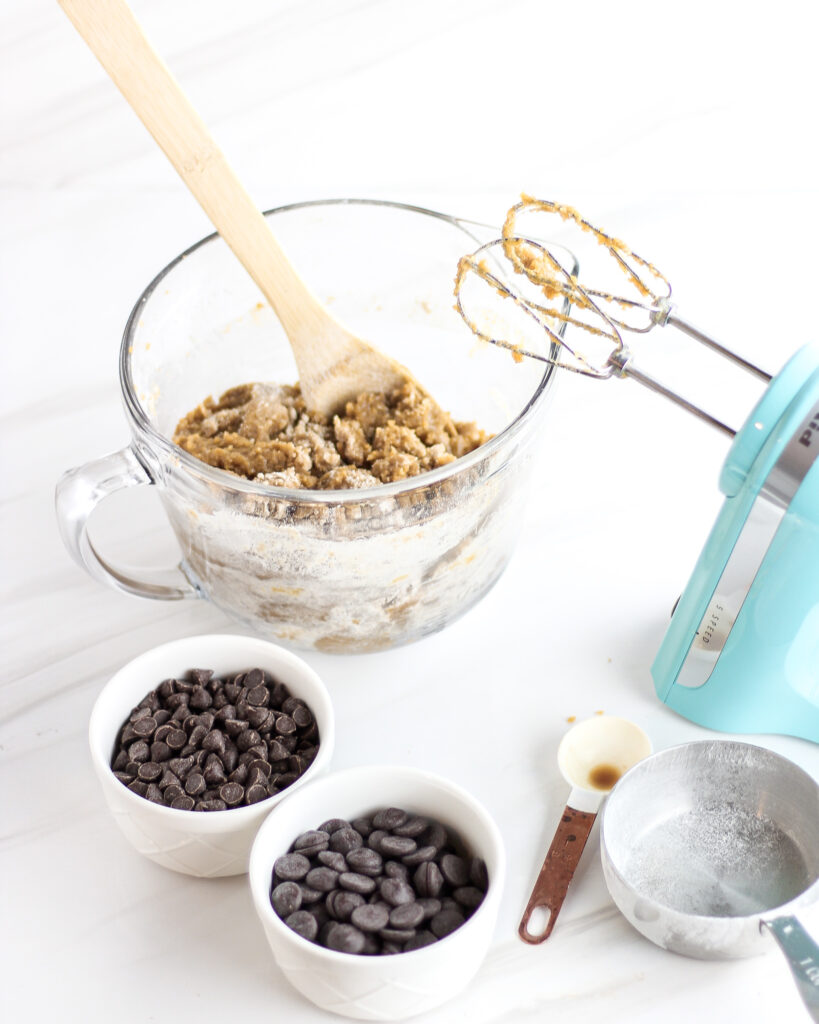 Way back when I started experimenting with chocolate chip cookie recipes, I was tired of the typical Tollhouse type of cookie recipes. I wanted something a little more elevated. My first tweak was adding brown butter. This step alone was a game changer. The brown butter adds a depth and richness to the cookie, and gives it a complementary nutty flavor. Then I discovered the sprinkle of sea salt (thanks to fancy bakery cookies). With all the chocolate and sugar, the extra bit of salt balances out the flavor.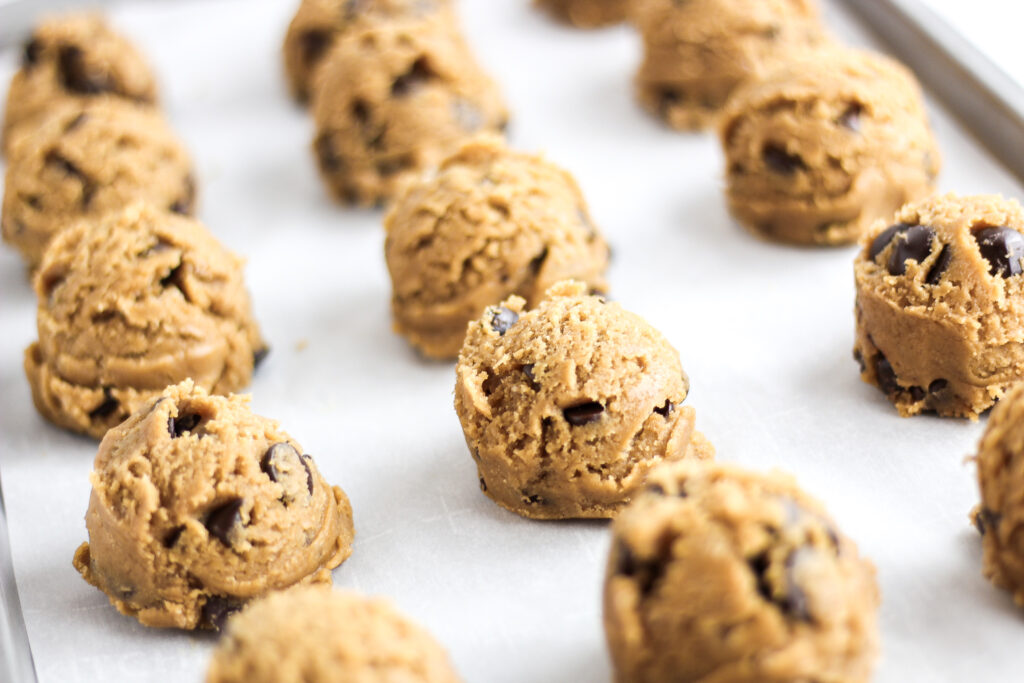 Adding two types of chocolate chips was actually an accident. I was making a batch of cookies one day using a left over bag and new bag. I ended up grabbing a bag of large dark chocolate chips instead of semi-sweet chips like I'd always gotten. But it was a good mistake. The 2 types of chocolate help make each bite taste slightly different, adding to the complexity and interest of the cookie. Most recently I've started using dark brown sugar. Many recipes call for light brown sugar instead, but using dark brown adds to the depth of flavor. It helps add more of the deep caramelly flavor that I love in a chocolate chip cookie.
My biggest tips for a good chocolate chip cookie:
– Chill your dough for at least an hour. This makes the butter solidify so you cookies don't spread as much and won't come out flat and thin (unless you like them that way. No judgement here!)
– Don't overbake your cookies. If in doubt underbake them. The cookies will continue to bake when you take them out of the oven. So once cooled, they'll be crisp on the outside with just enough chewy and gooeyness in the middle.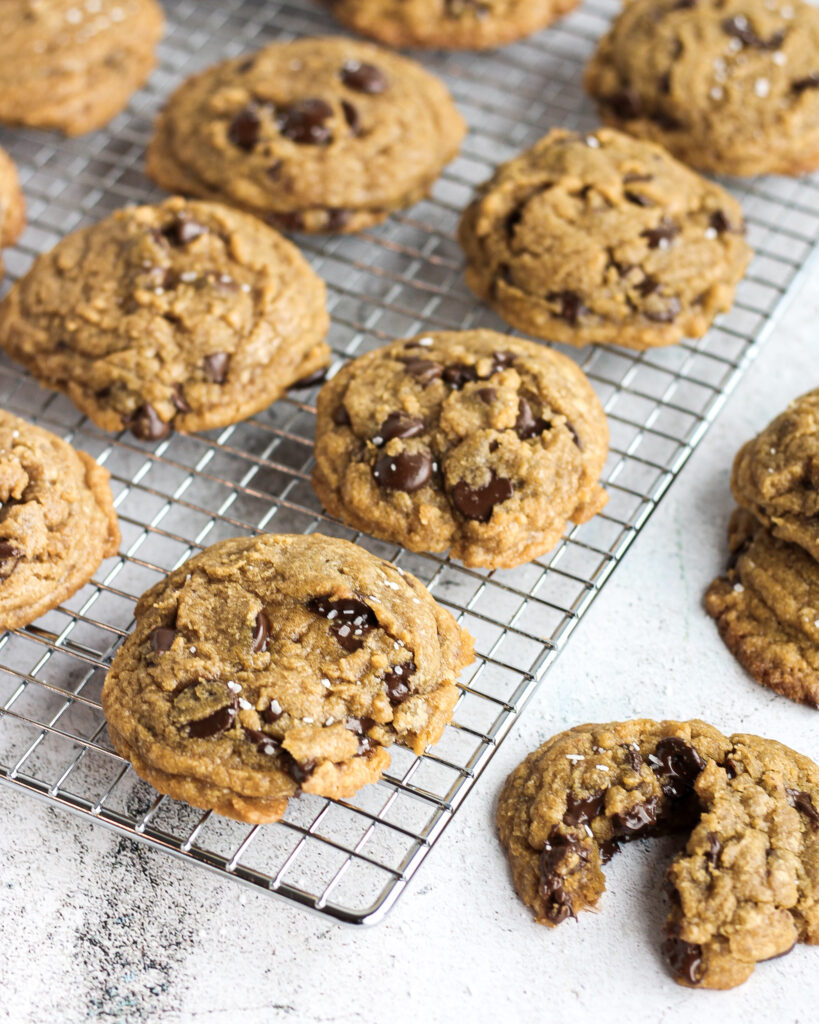 Brown Butter Chocolate Chip Cookies
Ingredients
1

c

butter (2 sticks)

2½

c

all purpose flour

1

tsp

baking soda

½

tsp

table salt

1½

c

dark brown sugar

½

c

granulated sugar

1

tbsp

vanilla extract

2

eggs

¾

c

dark chocolate chips

¾

c

semi-sweet chocolate chips
Instructions
Brown your butter:

Add butter to a saucepan and place over medium heat. The butter will begin to crackle, and start to foam. Whisk constantly during at this point. After a couple of minutes, the butter will begin turn a golden amber color on the bottom of the saucepan. Continue to whisk and remove from heat as soon as the butter begins to brown. Immediately transfer the butter to a bowl to prevent burning. Set aside to cool for 10 minutes or until cool enough to touch.

In a large bowl, whisk together the flour, baking soda, and salt. Set aside.

In a separate bowl using a whisk, electric mixer, or stand mixer with paddle attachment, mix the brown butter and sugars until well combined (about 1 minute). Then beat in the eggs and vanilla until combined. 

Slowly add the dry ingredients to the wet ingredients and beat on low-speed just until combined. Add both chocolate chips and mix on low speed until just incorporated into the dough.

Measure 3 heaping tablespoons of the dough or use a large cookie scoop. Place dough balls on cookie sheet about 2 inches apart, allowing space for the cookies to spread as they bake.

Place formed dough balls in the refrigerator to chill for at least 1 hour, or up to 24 hours.

Preheat your oven to 350 degrees F and line a baking sheet with parchment paper.

Once chilled, bake the cookies 15-17 minutes or until the edges of the cookies begin to turn golden brown. They will look a bit underdone in the middle, but they continue to cook once out of the oven. Don't over bake!

Cool the cookies on the sheets for 5 minutes to allow them to set up, then sprinkle each cookie with sea salt. Remove the cooled cookies from the baking sheets and transfer to a wire rack to cool completely. Makes 12 large cookies.