Jump to Recipe
This chocolate version of the French classic madeleine is just as delicious and delightful as the original. These little tea cakes have a slight crisp on the outside with a light and airy cake on the inside. They bake up perfectly everytime with the perfect scalloped edge and the signature madeleine hump.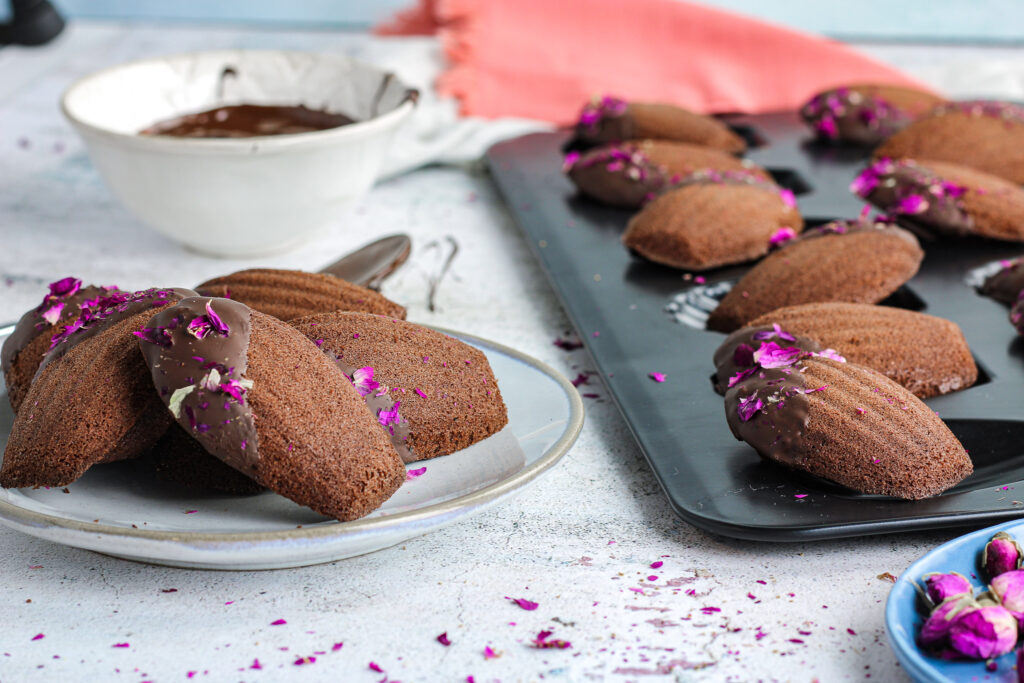 There's a debate about if these little treats are cake or cookies. I stand firmly on the side of cake. The batter is literally cake batter, lol. Madeleines are a type of sponge cake called a genoise. Traditionally they use air to rise instead of leavening agents.
The lack of leavening agents has also intimidated quite a few people. I developed my recipe to combat those pesky little challenges, a cheat if you will. First, instead of only beating air into the eggs, I also whisk or use a hand mixer to incorporate the flour as well. This helps to not deflate the bater throughout the process. I, like many others, also add just the tiniest bit of baking powder (that's the cheat). The tiny amount won't do much on it's own, but when combined with just enough air whisked into the batter, it definitely helps to ensure a rise. (Just a note, they taste great even without a proper rise, but where's the fun in that?!?)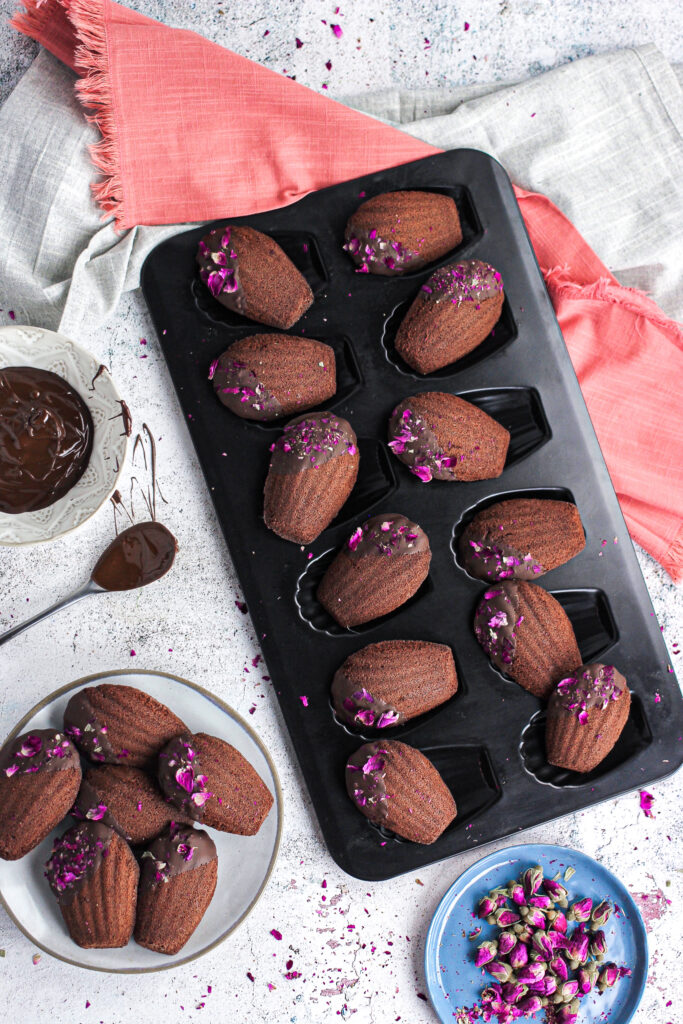 A few things to note
The batter is delicate (it's full of air), so when you fold in your butter be gentle.
The recipe says to refrigerate the batter. This, yet again, it to ensure the cakes rise properly. They can be baked without this step, but they will likely be flat (and again, where's the fun in that?!?)
Since madeleines are a sponge cake, they tend to dry out quickly. When making them it's best to eat them within about a day of baking. The batter can be stored for 2 or 3 days in the refrigerator, so it can be easily made ahead.
I've tested this recipe with both dutch processed and natural cocoa powders. I prefer the dutch processed version, however, natural cocoa powder can be substituted and they will come out fine if that's your preference.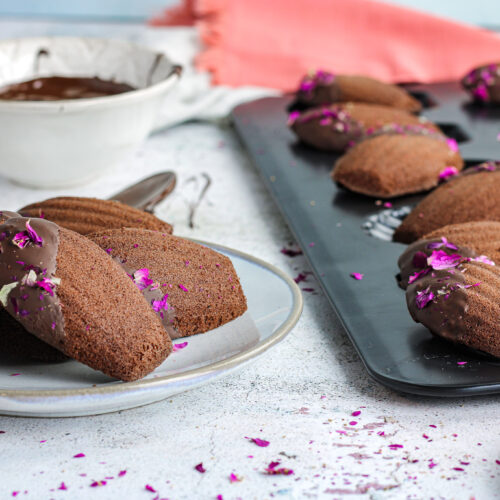 Chocolate Madeleines
Makes 20-24 standard sized madeleines.
Ingredients
3

large eggs

½

c

granulated sugar

1

tbsp

light brown sugar

¾

c

all purpose flour

2

tbsp

cocoa powder

¼

tsp

baking powder

⅛

tsp

salt

½

c

melted butter

cooled
Garnish
2

oz

melted dark chocolate

cooled

2

tbsp

dried edible roses
Instructions
Melt butter an allow it to cool (about 10 minutes)

To a large bowl add eggs, granulated sugar, and brown sugar. Using a handle hand held mixer, beat until mixture becomes thicker and a pale color. 2-3 minutes. (You can also use a stand mixer or whisk for this step. A whisk will increase the time the mixture takes to thicken.)

Sift in flour, cocoa powder, baking powder and salt. Mix until flour and cocoa powder are incorporated.

Add melted butter and vanilla. Fold until butter is fully mixed in. The batter should be smooth with no streaks.

Cover batter and chill for at least 1 hour or up to overnight.

Prepare madeleine pan with butter and flour, pan release spray, or other non-stick option.

Fill each section with about 1 tablespoon of batter. Bake at 375 for 8-11 minutes. You'll know your cakes are done with the tops spring back.

Garnish with melted dark chocolate and dried roses.
Video