Jump to Recipe
These easy chocolate cookies are chewy around the edges, soft in the middle, and taste like the perfect mug of hot chocolate. But better. These hot cocoa cookies are rich and decadent. The perfect holiday cookie!
Hot chocolate is one of my favorite things in life. (Really anything chocolate might be, but we'll explore that later.) So this cookie is one of my favorites to make. One of the things I get most excited for is melting the chocolate. There's something about melting chocolate over a double boiler that's so soothing to me. The other thing I love is the marshmallows. They get slightly crisp as the cookies bake, so it adds to the gooey chewiness.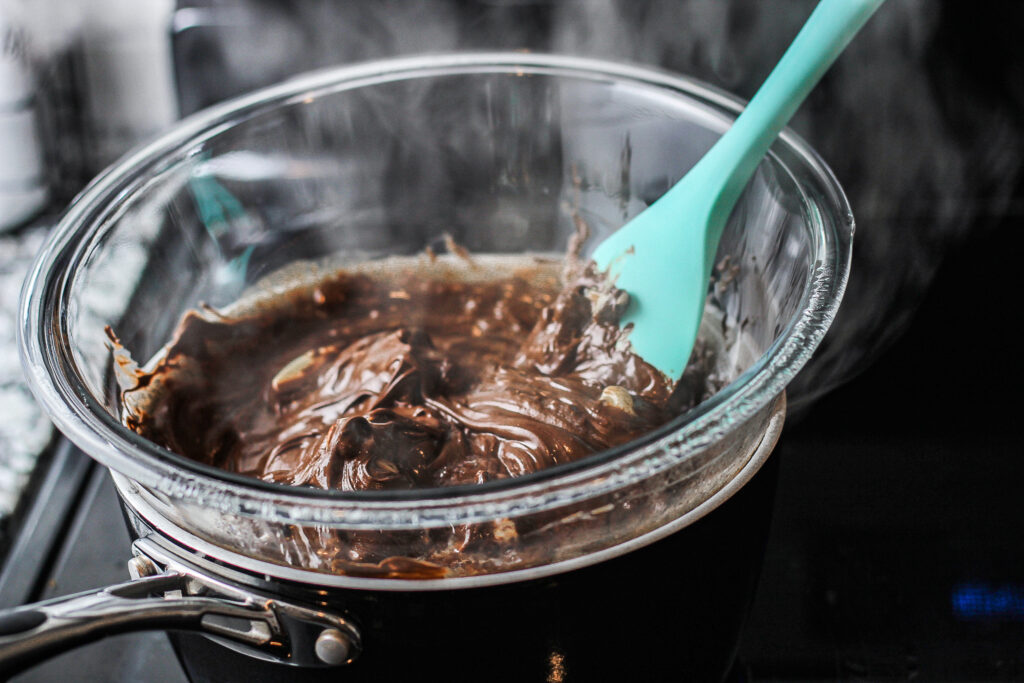 Since this recipe uses melted chocolate, when mixing with the sugar/egg mixture make sure the chocolate has cooled. Otherwise you end up with scrambled eggs.
It's also important to note that this cookie batter will initially be thin. Somewhat like brownie batter. You'll need to chill it for at least an hour to firm up so it's scoopable.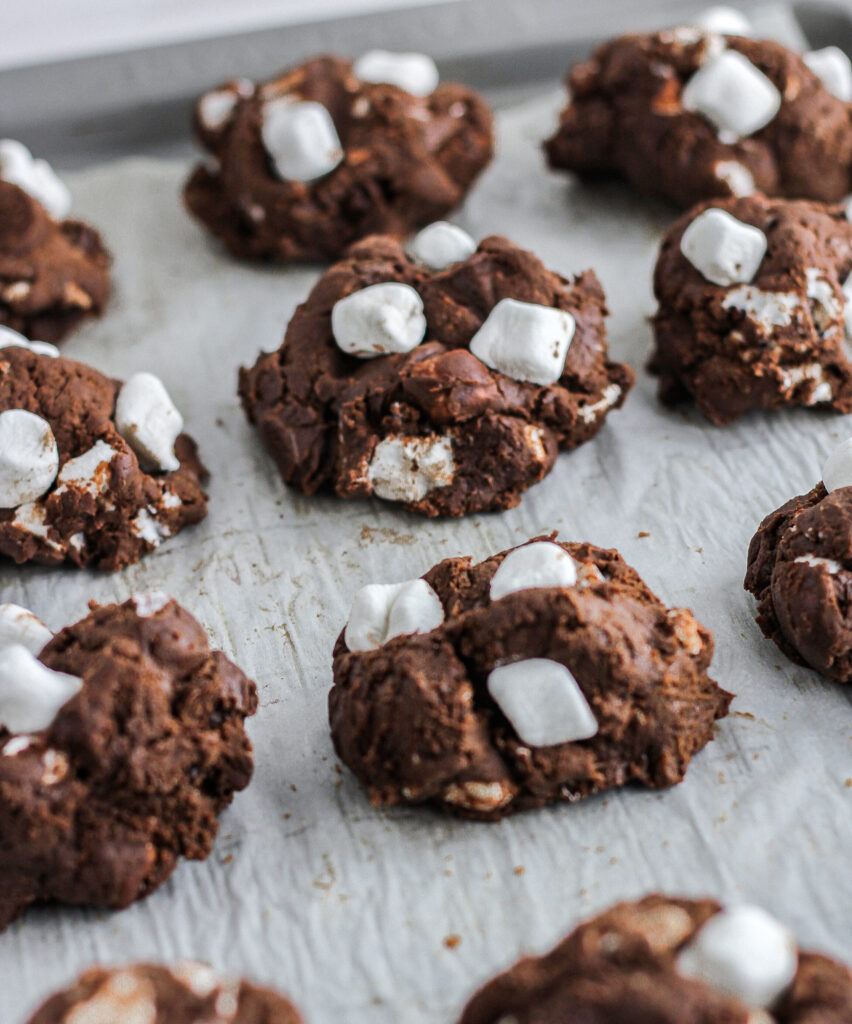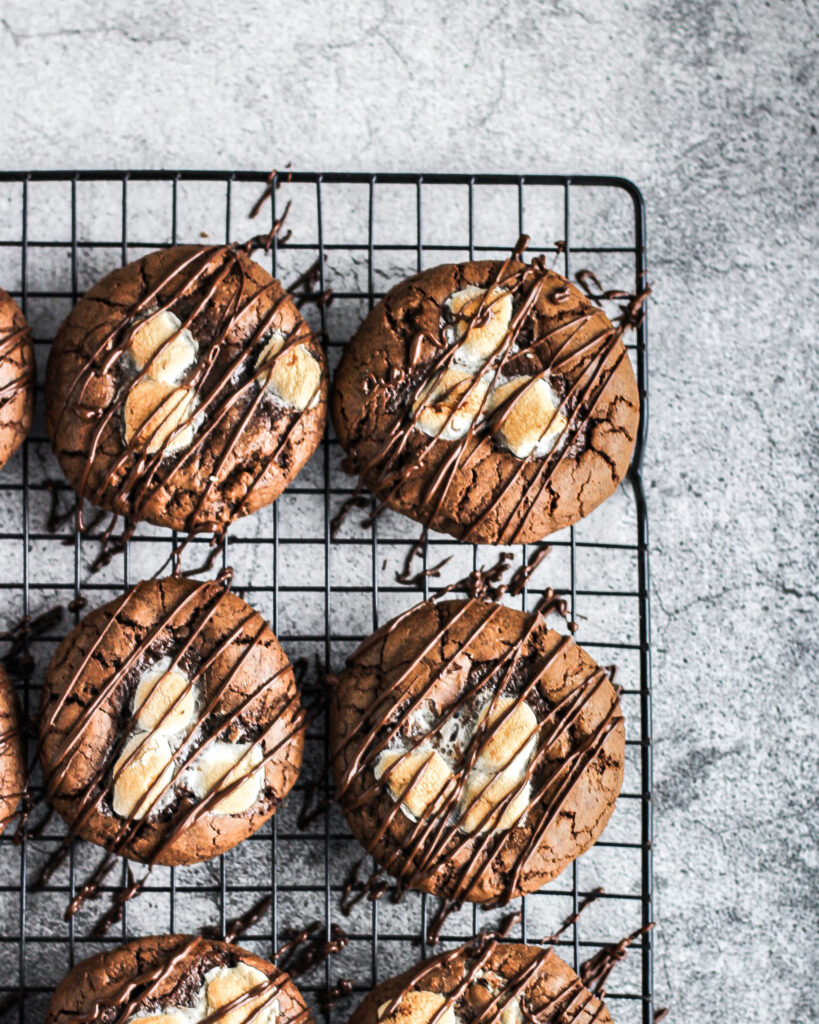 Hot Cocoa Cookies
Ingredients
1½

c

semi-sweet chocolate chips

½

c

Unsalted butter

1½

c

all purpose flour

¼

c

cocoa powder

1

tsp

baking powder

¼

c

salt

1

c

light brown sugar

2

tsp

vanilla

mini marshmallows
Instructions
Combine butter and semi-sweet chocolate chips in a double boiler, stirring frequently. Once melted, set aside to cool for about 10 minutes.

To a separate large bowl, add the brown sugar, eggs, and vanilla. Beat with a handheld electric mixer on medium speed just until blended, about 1 minute.

Add the cooled chocolate mixture and beat on medium speed until just until combined, about 1 minute. Stop and scrape down the sides of the bowl.Add the cocoa powder, flour, baking powder, and salt. Beat on low speed just until combined, about 1 minute. Stop and scrape down the sides of the bowl. 

Cover bowl with plastic wrap and refrigerate for 2 hours, or until dough has firmed up significantly. If you accidentally over-chill it and it becomes too firm, allow bowl to rest on counter until you can scoop it.

Preheat oven to 325F. Line a baking sheet with a Silpat or spray with cooking spray. Using a 2-tablespoon cookie scoop form dough mounds and place them on the baking sheet, spaced at least 2 inches apart (I bake 8 cookies per sheet). 

Place 1-3 marshmallows on all the cookies, pushing down very slightly so the marshmallow adheres.

Bake for 13-15 minutes, or until edges and tops have just set, even if slightly undercooked and glossy in the center.Remove baking sheet from oven, don't overbake. Cookies firm up as they cool. 

Allow cookies to cool on baking sheet for about 10 minutes before serving. I let them cool on the baking sheet and don't use a rack.