Jump to Recipe
As summer is coming to an end, I've found myself craving one of my summer favorites, and berry cake. I made a vanilla version earlier this summer, so this time I went with a lemon raspberry cake. It has fluffy layers of bright lemon cake, with burst of fresh raspberries. It's like summertime on a fork.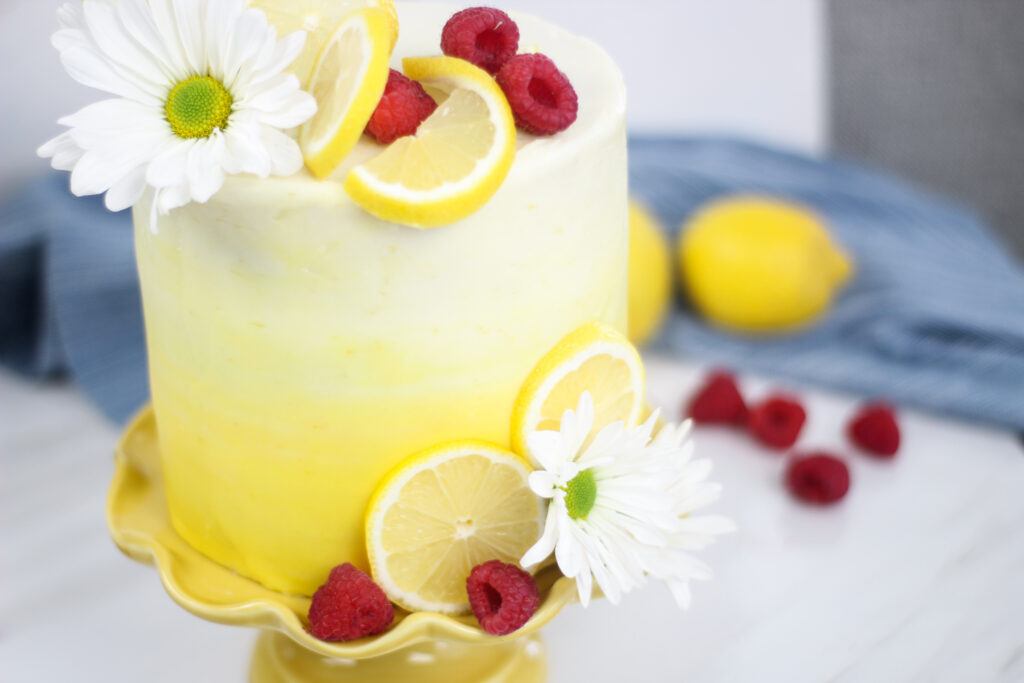 When I initially made the recipe, I didn't use lemon extract. The recipe I came up with called for it, but there wasn't any in the grocery store. So, knowing what I know, I decided that lemon juice, plus lemon zest would give me what I needed. Not quite. If this had been just a lemon cake, it would've been fine. But I needed a bigger punch of lemon flavor to stand out against the brightness of the raspberries. So I went back out, to a whole other grocery store to find the lemon extract. I decided to keep the lemon juice and lemon zest. And now it's full of the perfect lemon flavor. I went through that, so you don't have to.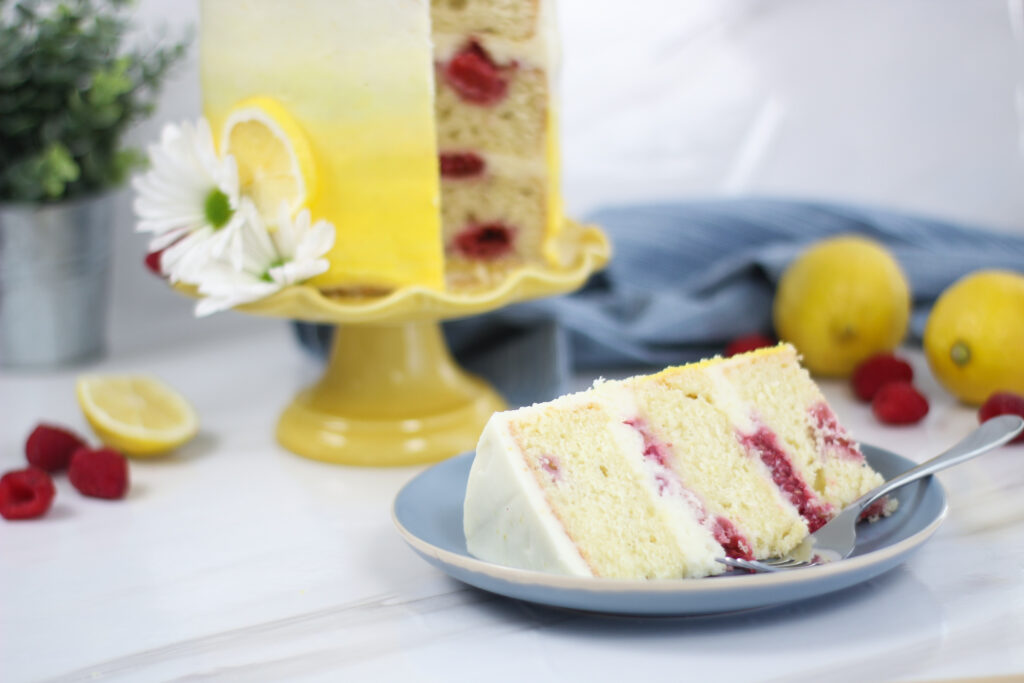 And speaking of raspberries, let's just get into all the ways raspberry shows up here. I baked fresh raspberries into the cake, plus there's raspberry puree and whole fresh raspberries between each layer. Plenty to compliment the lemon cake, but not too much to be overpowering.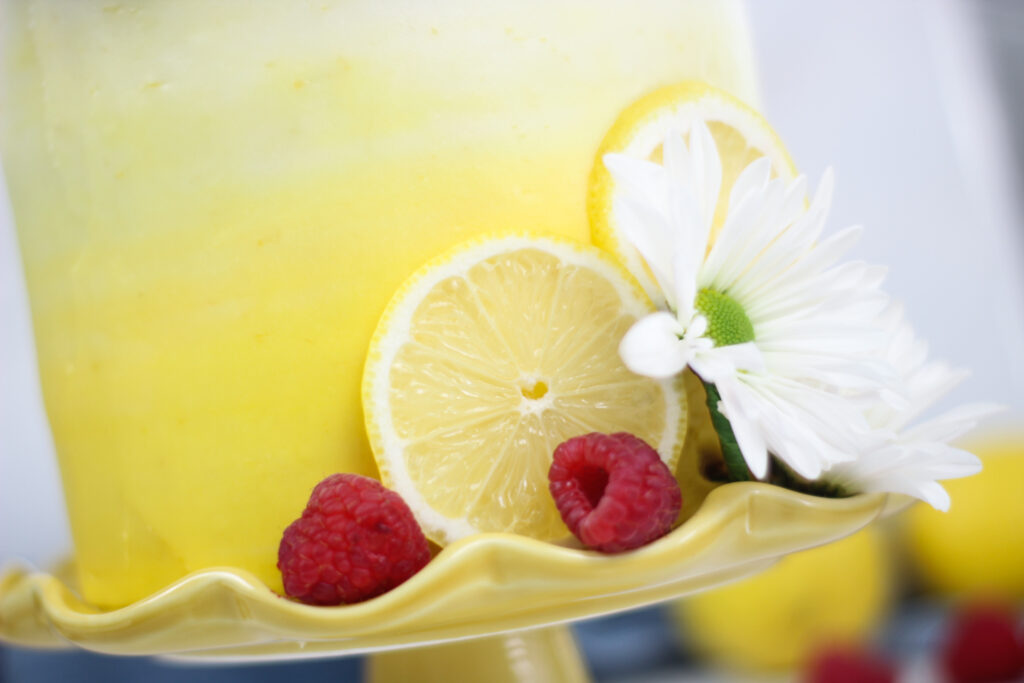 The lemon cream cheese buttercream going to be softer than regular buttercream, but not as soft as a full cream cheese frosting. To counter this I do two things. First, there is no liquid added to this, not even extract. Any but of liquid will make this even softer, so I used lemon zest instead. It works for me because I love seeing the zest on this finished cake. The next is letting the frosting chill for a while before using it. I will usually make my frosting and let it chill (tightly covered) in the refrigerator while I bake the cake. When it's time to frost I take it out and mix it with the stand mixer for a few seconds. Now it's the right consistency to pipe onto the cake.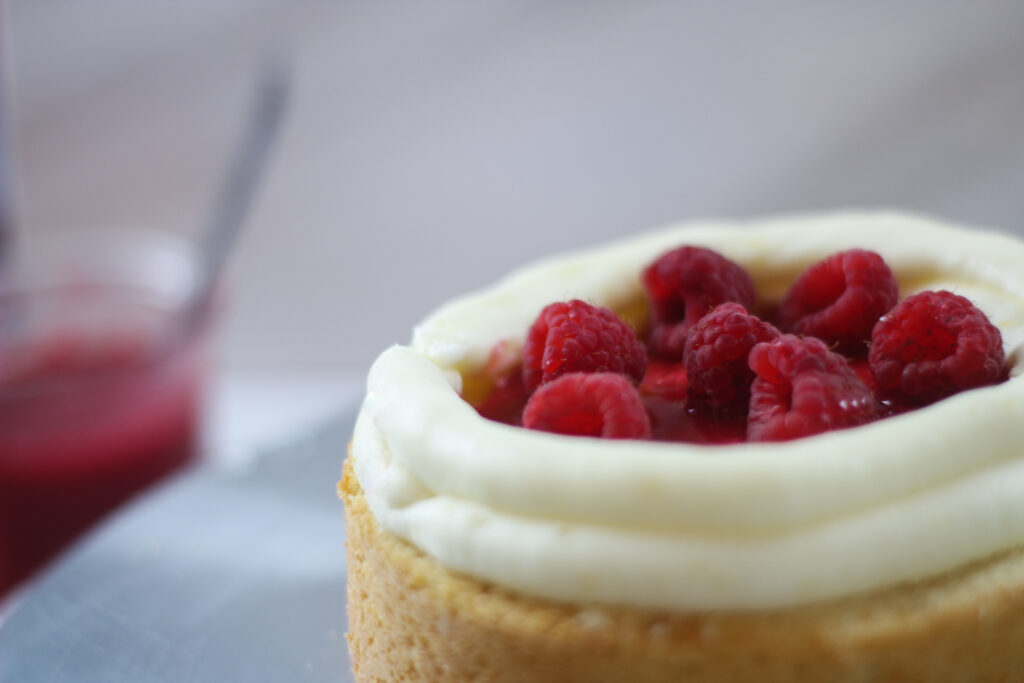 Now. Cake assembly. As mentioned above, I used Raspberry Puree as a filling for the cake (you can also use a store bought filling if you so chose). It's pretty fluid, so it definitely won't stand alone. Thus, if you assemble this way, make sure you pipe a border of buttercream first as a dam to keep the filling from oozing out. To help with this, I also added fresh raspberries then covered with a layer of buttercream. Now the layers have something a little more solid to sit on.
And there you have it, a few more moments of summer.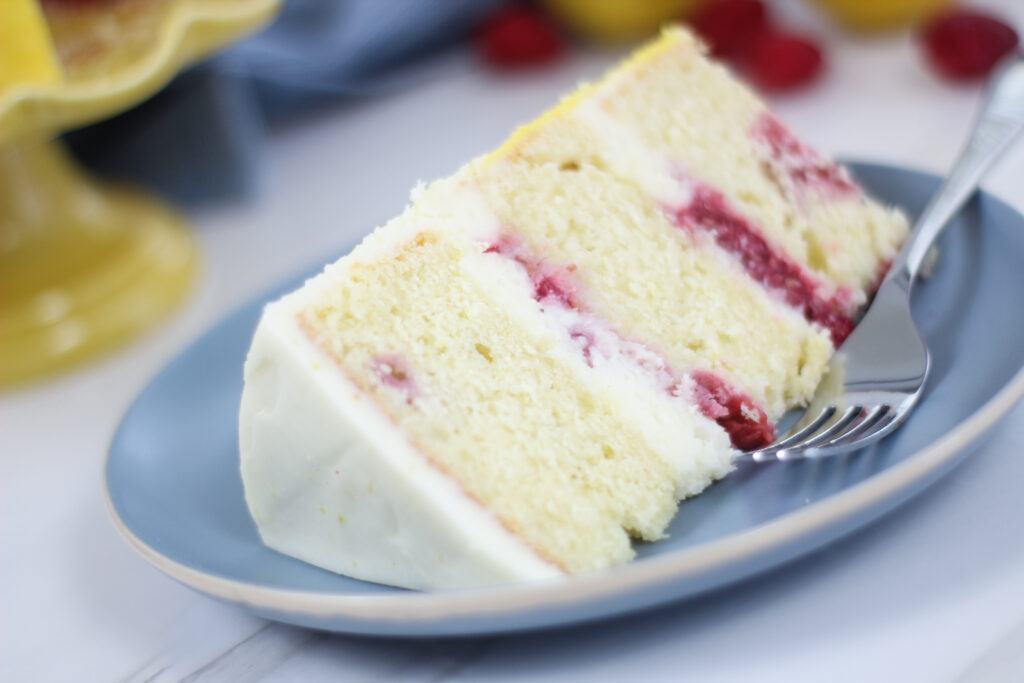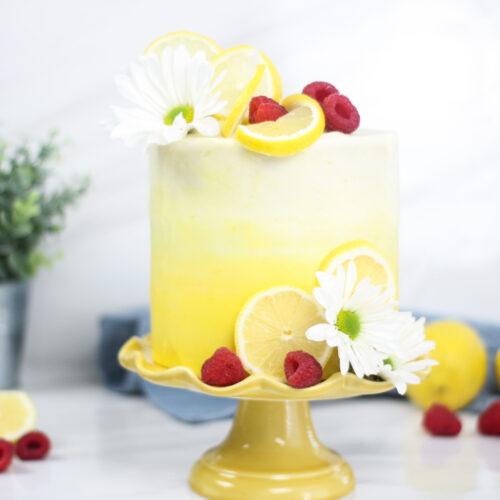 Lemon Raspberry Cake
Ingredients
Lemon Raspberry Cake
3

c

all purpose flour

1 ¼

tsp

baking powder

½

tsp

baking soda

¾

tsp

salt

1

c

unsalted butter

1 ½

c

sugar

3

large eggs

2

tbsp

lemon zest

about 2 medium lemons

t

tsp

lemon extract

3/4

c

buttermilk

1/4

c

fresh lemon juice

juice of 1 lemon

4

oz

fresh raspberries
Lemon Cream Cheese Buttercream
5

c

confectioner's sugar

8

oz

cream cheese

room temperature

4

oz

unsalted butter

room temperature

2

tbsp

lemon zest

⅛

tsp

salt
Instructions
Lemon Raspberry Cake
In a large bowl, whisk together dry ingredients (flour, baking powder, baking soda, salt). Set aside.

Using a stand mixer (with paddle attachment) or a handheld mixer, cream butter and sugar on high speed until light and creamy. This should take about 3 minutes.

Add eggs, lemon zest, and lemon extract. Mix on high speed for about 2 minutes.

Add dry ingredients, mix on low speed until just barely combined. (Reserve a few teaspoons and use to coat your raspberries).

Add buttermilk and lemon juice, mix on low speed until batter has come together. Careful not to over mix here.

Divide batter evenly into cake pans. Place flour coated raspberries into each cake.

Bake for about 35-40 minutes. *Bake time will vary if using cake pans other than those listed above. Your cakes are done if the middles spring back when you press them, or if a toothpick can be inserted and comes out clean.

Allow cakes pans to cool for about 5 minutes before removing cake. After removing cakes from pan allow to cool completely before frosting.
Lemon Cream Cheese Buttercream
Using a stand mixer with paddle attachment or a handheld mixer, cream butter until light and creamy. I usually mix for about 5 minutes.

Add confectioner's sugar, lemon zest, and salt. Mix on very slow speed. You may want to use a towel to cover you mixer to prevent sugar spraying out. Once the sugar has combined, increase speed to high and mix for 2-3 minutes.

This buttercream will be soft because of the cream cheese. If it's too thin, add more confectioner's sugar. If it is still too thin, let the buttercream chill to firm up.