Jump to Recipe
This is a rich, decadent chocolate cake with a hint of peppermint flavor. It's combined with a peppermint buttercream and crushed peppermint candy canes, giving it a little surprise crunch. The chocolate and peppermint are perfectly balanced for a refreshing holiday treat.
Peppermint and chocolate is one of my favorite combinations. It's my go-to for coffee, hot chocolate, ice cream, candy… all the things. Basically if there's a mint chocolate option available, I'm here for it. I've been in a holiday baking mood these past few days, so this was another obvious choice.
To make the cake I adapted my Ultimate Chocolate Cake recipe. Initially I was a little worried about adding the peppermint extract, because that stuff can be alittle strong at times. But the cake baked up perfected. The peppermint flavor comes through without overpowering the cake. The buttercream flavor in this recipe is light, again not overpowering the cake.
So for those that don't know, my background in cake decorating is with using fondant, but when I started this blog I wanted to focus on more simple decorating that people can do at home. That said decorating this cake was fun, but it got a little messy. The surrounding the cake with crushed candy canes made a mess all over my counter. But it's cute, and it really made the cake pop. I'm also new to the ganache drip. Let's just say it's gonna take some practice.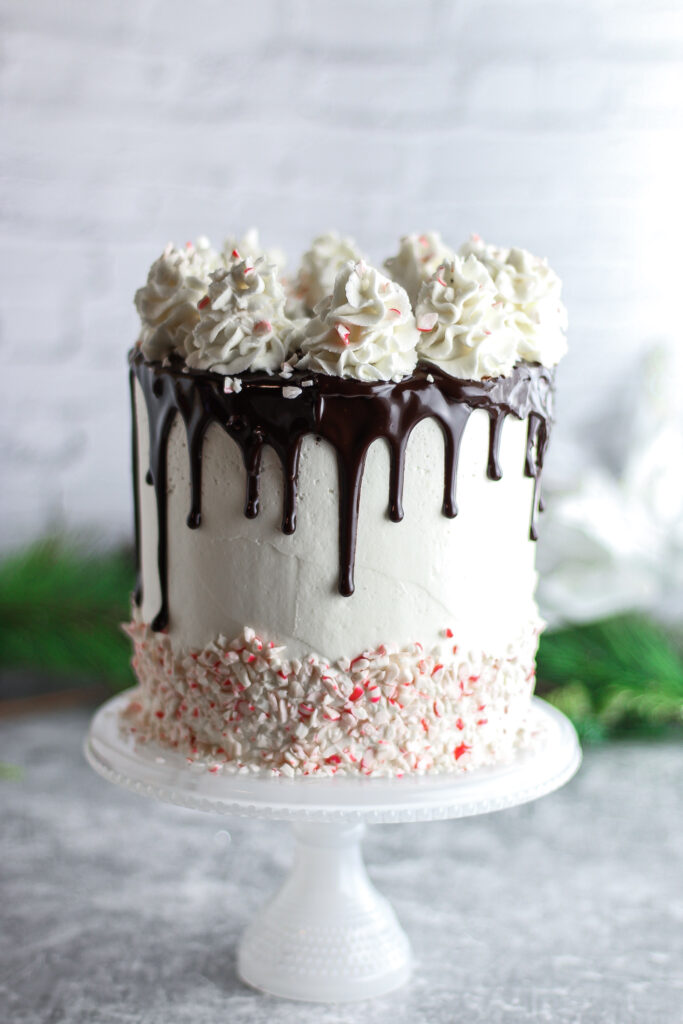 Chocolate Peppermint Cake
Yields 3 6×2 inch or 2 8×2 inch pans.
Ingredients
Peppermint Chocolate Cake
2

c

all purpose flour

1½

c

granulated sugar

¾

c

dutch processed cocoa powder

2

tsp

baking powder

1½

tsp

baking soda

¾

tsp

salt

¾

c

vegetable oil

1

tsp

peppermint extract

1

tsp

vanilla extract

3

large eggs

¾

c

sour cream

½

c

hot brewed coffee
Peppermint Buttercream Frosting
2

c

unsalted butter

5

c

powdered sugar

3

tsp

heavy cream

2

tsp

peppermint extract

¾

tsp

salt
Instructions
Preheat oven to 350°F. Prepare baking pans with non-stick spray or other pan release method.

In large bowl, mix flour, sugar, cocoa powder, baking powder, baking soda, and salt. (I use my stand mixer on the lowest speed for this.)

In a separate bowl, whisk oil, peppermint, vanilla, eggs, and sour cream. Whisk until eggs are fully beaten and mixture is creamy and a pale yellow.

Pour oil mixture into dry ingredients. Mix until the dry ingredients are incorporated and there are no lumps. With a stand mixer, beat for about 1 minute on the lowest speed.

Add hot coffee to batter. This will make it a bit sloshy, mix until batter smooths out again. About a minute.

Divide batter evenly into cake pans. Bake for about 30-35 minutes. You don't want this to over bake, so keep a close eye on it. *Bake time will vary if using cake pans other than those listed above. Your cakes are done if the middles spring back when you press them, or if a toothpick can be inserted and comes out clean.

Allow cakes pans to cool for about 5 minutes before removing cake. After removing cakes from pan allow to cool completely before frosting.

For the frosting, using a stand mixer with paddle attachment or a handheld mixer, cream butter and cream cheese until light and creamy. About 5 minutes.

Add confectioner's sugar, cream, vanilla extract, and salt. Mix on very slow speed. You may want to use a towel to cover you mixer to prevent sugar spraying out. Once the sugar has combined, increase speed to high and mix for 2-3 minutes.If frosting is too thick add more cream, about a tsp at a time, until you reach the desired consistency.

If it's too thin, add more confectioner's sugar. The consistency of the buttercream can change quickly so make these adjustments a little at a time and mix thoroughly.