Jump to Recipe
So I'll start with a confession. I'm not really a fan of pumpkin. I don't necessarily hate it, but to me it always feels like it's ready to be something else. Pumpkin soup tastes like it should be butternut squash. Pumpkin pie tastes like it should be sweet potato pie. And I'm sorry ya'll but pumpkin spice lattes just miss the mark for me, lol. That said, I was a little worried that I wouldn't be thrilled with this cake. But honey… I surprised myself. This cake was so good!
I'll admit I love a good spice cake, and that's pretty the basis of this cake. We'll get into some other spice cakes later… apple, pear, maybe even sweet potato. I paired the cake with a basic cream cheese frosting, because that's all it needed. And for me the cake itself is so good, I don't even need the frosting. But we already know how I feel about frosting, so I won't even go there.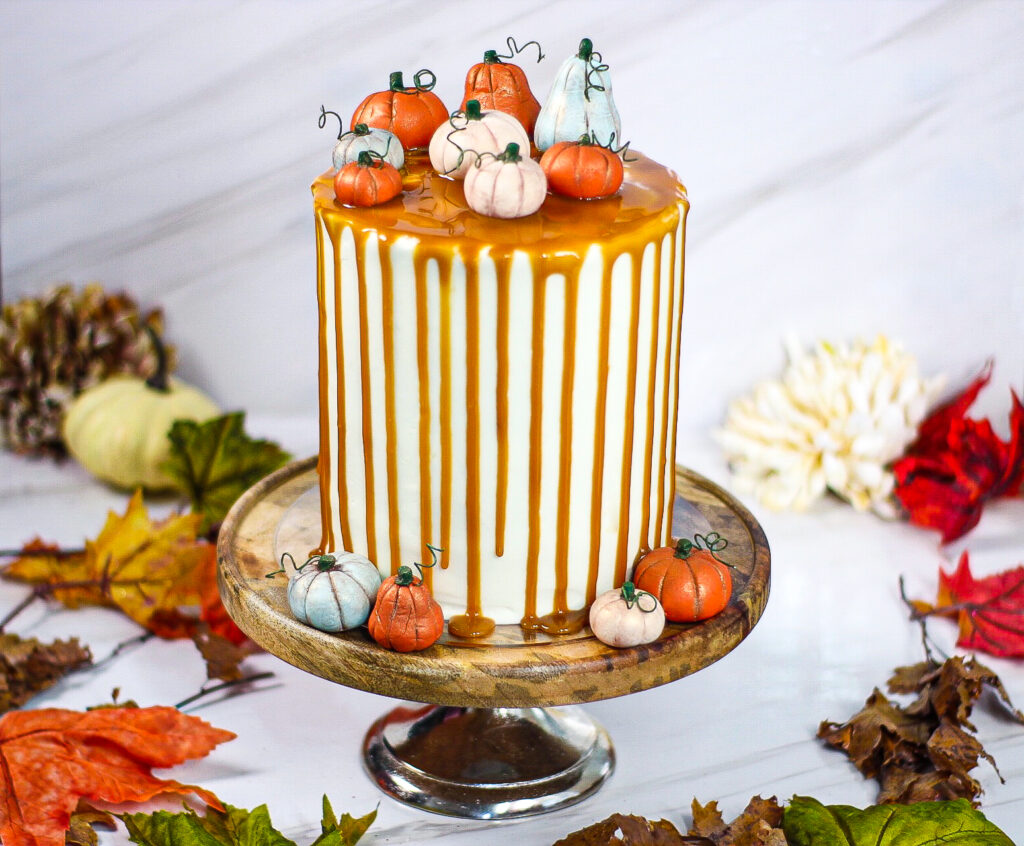 Anywho, this is cake was the perfect entry into fall baking. The aroma of pumpkin spice was filling my kitchen before anything even starting baking. So you know it smelled heavenly as it baked. And that first taste was everything. I make all of the recipes at least twice, because I want to make sure I get the recipe just right. So the second cake was just as delightful. So it's safe to say I thoroughly enjoyed it.
Initially I had planned to leave the cake white and just add the pumpkins for a little flair, but it felt like it needed a little something more. So I added the caramel drip. I used a store bought caramel sauce. I know how to make caramel and probably should have, then my drips may have been a little more controlled. But this is fine, the long drips work fine.
Yes, I handmade the pumpkins. No it wasn't difficult. I colored a few balls of fondant and roughly shaped them into pumpkin shapes. Then I used a fondant knife tool to indent the little grooves. This part was tricky because pressing too hard would mess up the general shape, thus some of the pumpkins are a little wonky. But I was going for rustic, so it's fine. I brushed each pumpkin with brown powdered food coloring to mute the colors and make them alittle more realistic. For the stems I had floral wires that worked perfectly. Just rolled them around a chopstick, then stuck them in the pumpkins for some cute, whimsical stems.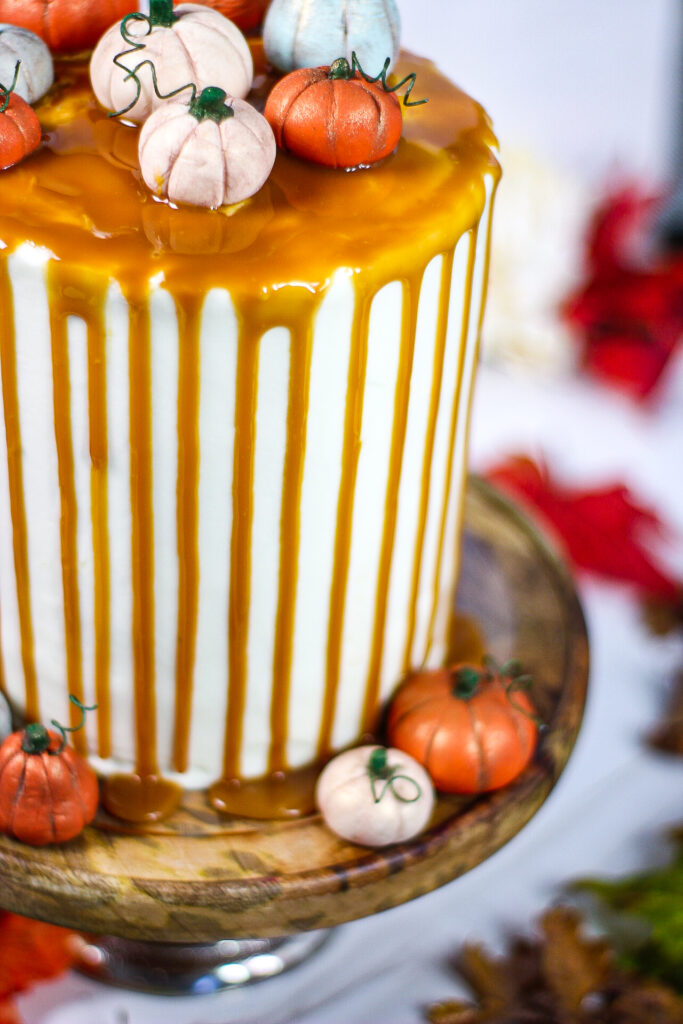 Pumpkin Spice Cake
Makes four 6×2 inch cakes or two 9×2 inch cakes
Ingredients
Pumpkin Spice Cake
1

c

butter, room temperature

⅔

c

light brown sugar

⅔

c

granulated sugar

3

large eggs, room temperature

2 ⅓

c

all purpose flour

1 ½

tsp

baking powder

1/2

tsp

baking soda

1 ¾

tsp

ground cinnamon

¾

tsp

ground nutmeg

¼

tsp

ground cloves

¼

tsp

ground ginger

¾

tsp

salt

1

c

pumpkin puree
Cream Cheese Frosting
5

c

confectioner's sugar

8

oz

cream cheese, room temperature

4

oz

butter, room temperature

¼

tsp

salt
Instructions
Pumpkin Spice Cake
Preheat oven to 350°F. Prepare baking pans with non-stick spray, or other pan release method.In a large bowl, whisk together dry ingredients (flour, baking powder, baking soda, spices, salt). Set aside.

Using a stand mixer (with paddle attachment) or a handheld mixer, cream butter and sugar on high speed until light and creamy. This should take about 3 minutes.Add eggs, and vanilla extract. Mix on high speed for about 2 minutes.

Add dry ingredients, mix on low speed until just barely combined.

Add pumpkin puree, mix on low speed until batter has come together.

Divide batter evenly into cake pans. Bake for about 35-40 minutes. *Bake time will vary if using cake pans other than those listed above. Your cakes are done if the middles spring back when you press them, or if a toothpick can be inserted and comes out clean.

Allow cakes pans to cool for about 5 minutes before removing cake. After removing cakes from pan allow to cool completely before frosting.
Cream Cheese Frosting
Using a stand mixer with paddle attachment or a handheld mixer, cream butter until light and creamy. I usually mix for about 5 minutes.

Add confectioner's sugar, and salt. Mix on very slow speed. You may want to use a towel to cover you mixer to prevent sugar spraying out. Once the sugar has combined, increase speed to high and mix for 2-3 minutes.

This buttercream will be soft because of the cream cheese. If it's too thin, add more confectioner's sugar. If it is still too thin, let the buttercream chill to firm up.