Jump to Recipe
This easy raspberry puree can be use to quickly liven up a simple dessert or add a sweet note to something savory. This sweet and tangy sauce can be used as an ice cream topping, in oatmeal, in puddings, on toast, or as my favorite… cake filling! Of course! I've used it to add a little dazzle to my Simple Vanilla Cake, and to add an extra layer of decadence to my Ultimate Chocolate Cake. I've even used it on charcuterie boards. There are tons of possibilities.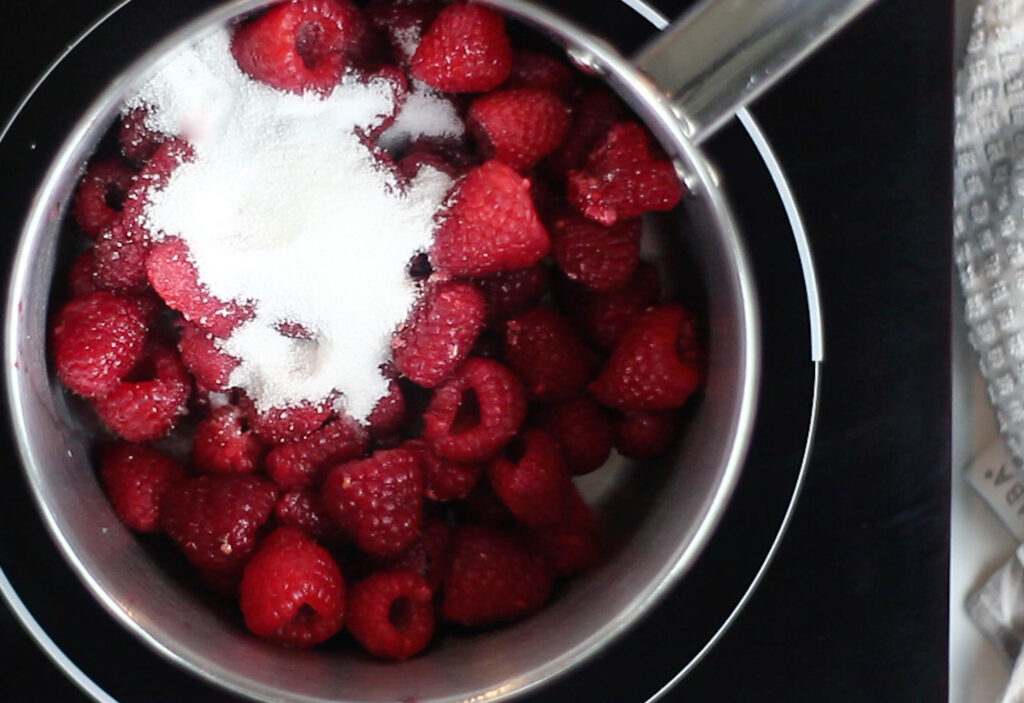 So why make a raspberry puree from scratch when you can just buy a pre-made puree, sauce or filling? Personally, I like to make things like this myself because I can control the ingredients. Number one being the sugar. Many of the pre-made varieties are a little too sweet for my liking. I prefer to taste the fruit with a hint of sweetness. The recipe is so simple, plus I keep fresh berries around. So I always have the ingredients on hand and there's no need to buy anything extra. The recipe is also versatile. Using the same methods and basic ingredients you can swap out other berries, like strawberries or blackberries, and have a sauce just as yummy. See how easy that was?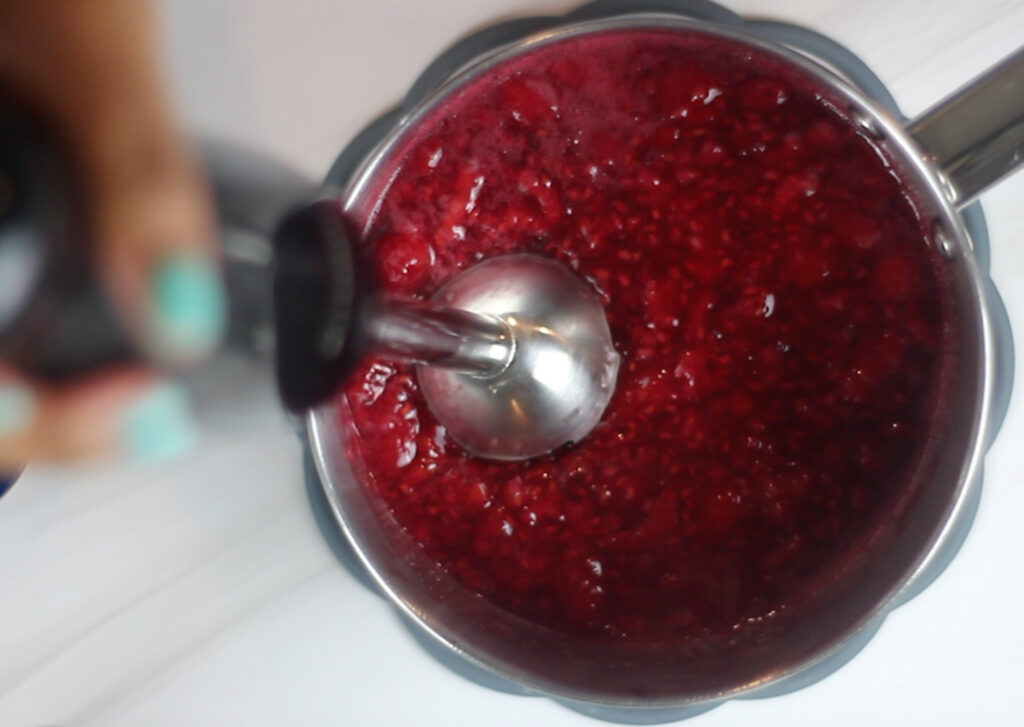 A few tips before we get to the recipe:
This recipe calls for fresh raspberries. However you can substitute with frozen raspberries. The color will be a little darker and the taste won't be as vibrant as fresh berries. But you'll still get a delicious result.
I use lemon juice in the recipe. It can be substituted for the same amount of orange juice. The citrus juices are used to add some brightness to the berries and make the raspberry flavor pop. You could likely even use lime juice, but I haven't tried that one so don't quote me.
We will be using cornstarch to thicken our puree. If you don't have cornstarch available, you may want to let your berries simmer a few minutes longer. Your final result will be a little thinner.
I call this a puree, but I don't strain it. I prefer to have the texture of the seeds and fruit. But I know that some people prefer a smoother final product. So if you don't like having the seeds or fruity chunks you can strain your mixture. All of the other directions will be the same.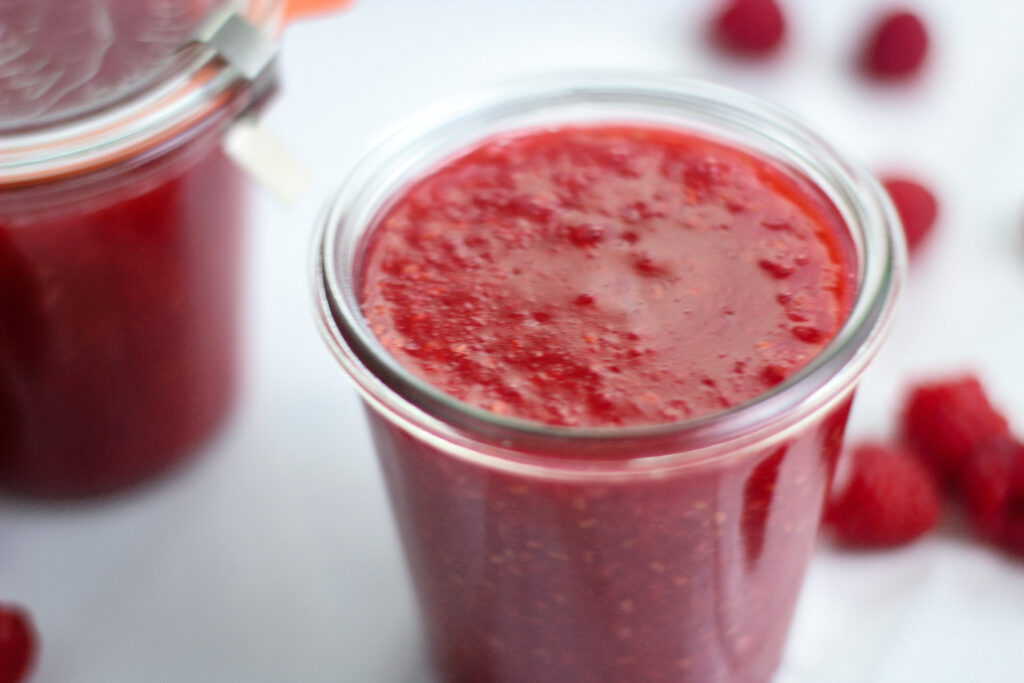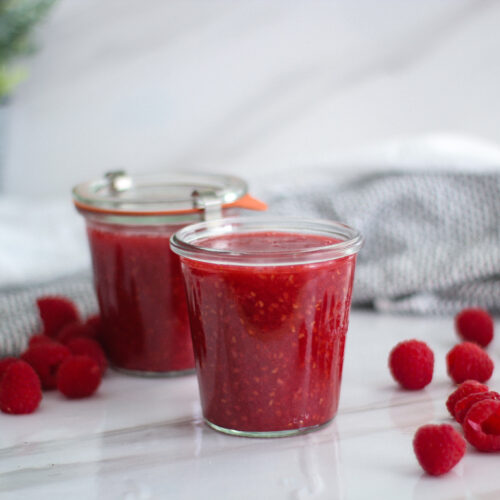 Raspberry Puree
This easy raspberry puree can be use to quickly liven up any dessert or add a sweet note to something savory.
Ingredients
12

oz

fresh raspberries

*can use frozen. See blog for details

1/4

c

sugar

1

tbsp

lemon juice

*juice of half of a large lemon

1/8

tsp

salt

1/2

c

water

2

tbsp

cornstarch

*see blog if you need to omit this

2

tbsp

water
Instructions
Add raspberries, sugar, lemon juice, and salt to a medium saucepan.

Cook berry mixture over medium heat until it comes to a boil. In a separate small bowl or cup, prepare corn starch slurry (water + cornstarch). Whisk until there are lumps. Add to saucepan with berries.

Reduce to low heat and let mixture simmer until the berries pop and soften. About 5-7 minutes.

Remove berries from heat. Using an emersion blender, puree berries until smooth. (You can also puree berries in a standard blender.)

*If you would like a smooth final produce without seeds, strain at this step. See blog for details*

Your raspberry puree is ready for use! The puree will thicken as it cools.

This can be served warm or cooled. If using as a cake or cupcake filling, be sure to let it cool completely before use. Store in refrigerator in an airtight container for up to 2 weeks.