Jump to Recipe
Red velvet cake is a classic flavor that's always a winner. It's got a unique flavor that people can't quite figure out, but so many people love. And paired with a cream cheese butter cream, you can't go wrong.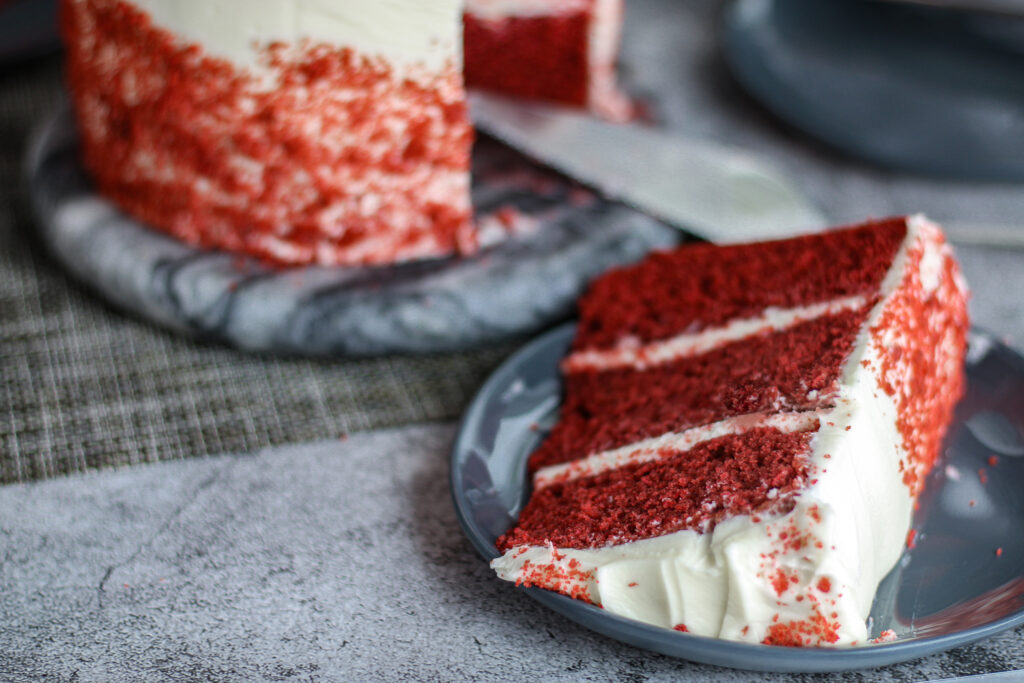 Many people tend to think this cake is just chocolate cake with red food coloring. NO. definitely not. A well made red velvet cake only has about a third of the cocoa powder you'd find in a chocolate cake. To me that would make it a very lackluster chocolate cake. The cocoa powder is important. It lends to the flavor and the unique red color that gave the cake it's name.
So that flavor that you can't quite pinpoint. It's a simple blend of vanilla, cocoa powder, and buttermilk. Theres a sweetness from the vanilla, and tanginess from buttermilk, with a little extra special from the cocoa.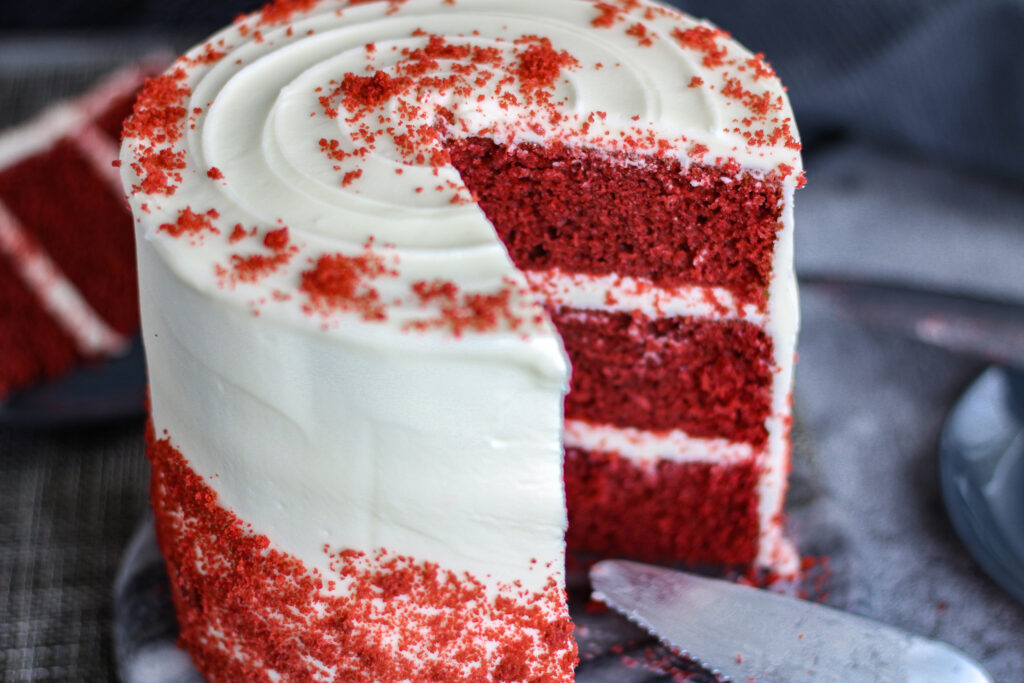 Most people do know that red velvet cakes involve a reaction of vinegar and baking soda. Fun fact this is what made me love it as a kid. This reaction is what gives the cake it's rise. What many don't know is that this reaction combined with the cocoa is what originally gave the cake it's signature red color. The original reds weren't like the reds we see today. But I guess it was noticeable enough to name the cake Red, lol. Today because our cocoa powder is processed differently, the reaction leaves us with a brownish cake that's tinted red. So to get the red color that we all love, we use red food coloring.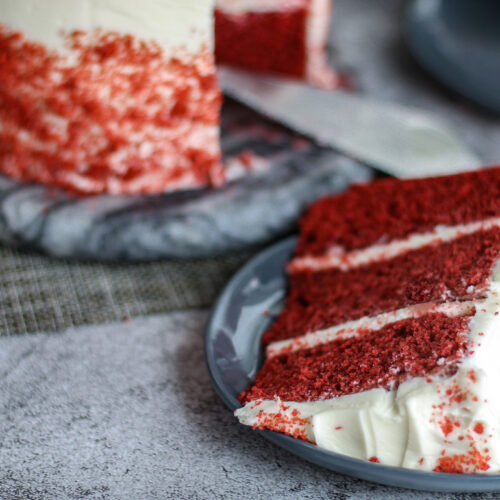 Red Velvet Cake
Classic red velvet cake with cream cheese buttercream
Ingredients
Red Velvet Cake
2½

c

flour

2

tbsp

cocoa powder

1

tsp

baking soda

¾

tsp

salt

1¼

c

vegetable oil

1½

c

granulated sugar

2

large eggs

room temperature

1

c

buttermilk

room temperature

1

tbsp

white vinegar

2

tsp

vanilla extract

1

tsp

red gel food coloring
Cream Cheese buttercream
16

oz

cream cheese

softened

1

c

unsalted butter

room temperature

2

tsp

vanilla extract

6

c

powdered sugar
Instructions
Red Velvet Cake
Pre-heat oven to 350F. Prepare cake pans with non-stick spray or other pan release method.

In a large bowl combine flour, cocoa powder, baking soda, and salt. Whisk to combine and sit aside.

In the bowl of your mixer (or another large bowl if using a hand mixer), add oil and sugar. Mix to combine. Next add eggs, mix. Add buttermilk, vanilla, vinegar, and gel coloring. Mix really well to combine eggs and food coloring.

Add dry ingredients to the wet mixture. Mix batter for about 2 minutes on medium speed.

Divide batter evenly into prepared cake pans.

Bake for 30-35 minutes. Your cakes are done when the middle springs back when you press them, or if a toothpick can be inserted and comes out clean.

Remove the cakes from the oven and allow them to cool in the pan for about 5 minutes. After removing from the pan allow to cool completely before frosting.
Cream Cheese Buttercream
Add cream cheese and butter to bowl. Mix until creamy.

Add vanilla and salt. Mix to incorporate.

Add powdered sugar. Mix on very low speed. You may want to use a towel to prevent sugar from spraying out. Once sugar is somewhat combined, increase the speed to high and mix for 2-3 minutes. If the frosting is to loose add more powdered sugar or sit in the refigerator to firm.