Jump to Recipe
These blondies are chewy, soft, and rich with loads of caramel flavor. Blondies great with add-ins (I'm using salted caramel and pecans), but can be just as delicious without the additions. These bars come together pretty easily, you don't even need a stand mixer!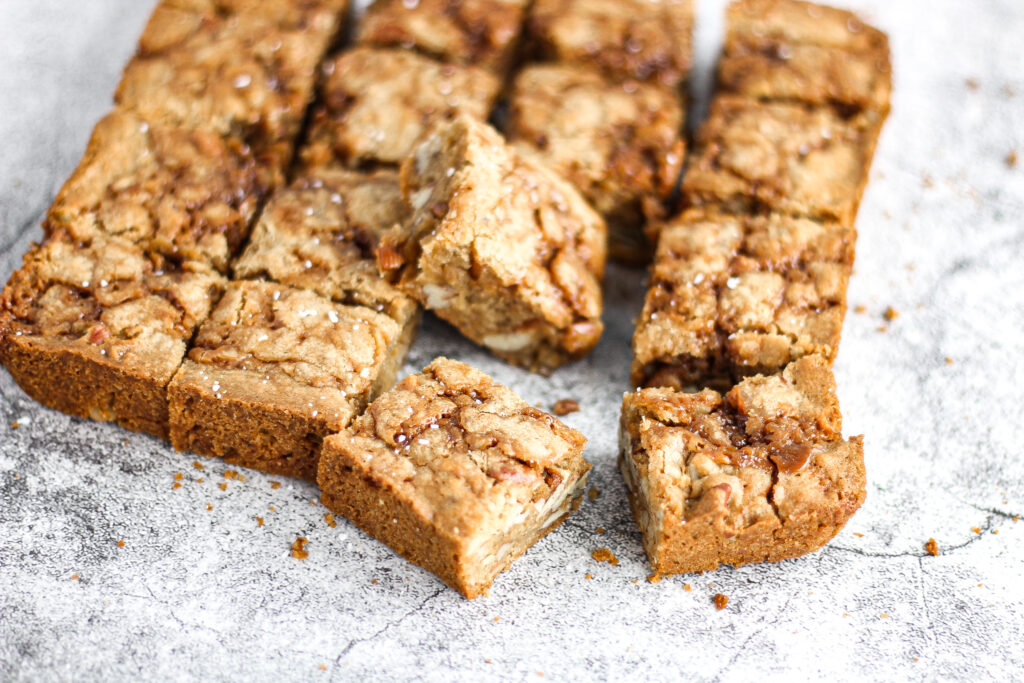 Blondies are kind of like brownies without the chocolate. The method for putting them together is basically the same. But in this case you end up with a chewy vanilla forward bar instead of chocolate. And I've taken my bars a step further to make them caramel forward. In addition to a salted caramel topping, I've upped the brown sugar and added browned butter to help bring out the caramel hint that you'd get in a traditional blondie.
In my recipe I'm using a homemade salted caramel (recipe coming soon!). You can use a store bought caramel, but like most things in the kitchen, homemade is better.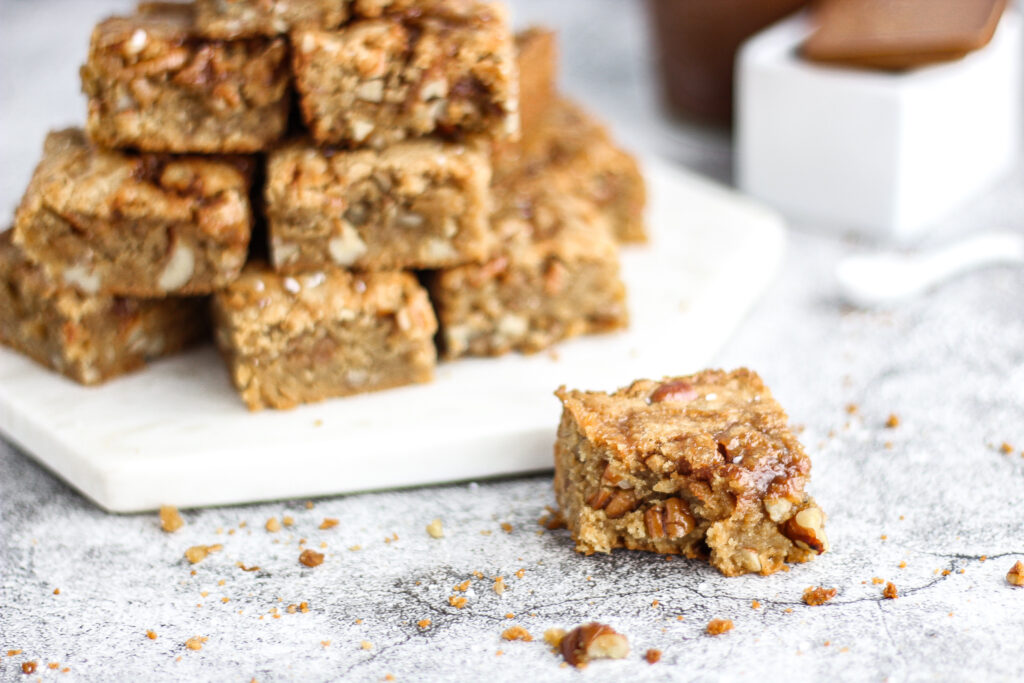 Salted Caramel Pecan Blondies
uses a 8×8 or 9×9 inch pan
Ingredients
1

c

brown butter

1¼

c

light brown sugar

½

c

dark brown sugar

1

tbsp

vanilla extract

1¾

c

all purpose flour

2

tsp

cornstarch

½

tsp

baking powder

½

tsp

salt

1¼

c

pecans

¼

c

salted caramel sauce

flaked salt to sprinkle
Instructions
Brown your butter:

Add butter to a saucepan and place over medium heat. The butter will begin to crackle, and start to foam. Whisk constantly during at this point. After a couple of minutes, the butter will begin turn a golden amber color on the bottom of the saucepan. Continue to whisk and remove from heat as soon as the butter begins to brown. Immediately transfer the butter to a bowl to prevent burning. Set aside to cool for 10 minutes or until cool enough to touch.

Preheat oven to 350°F. Prepare baking pans with non-stick spray, or other pan release method.

In a medium bowl whisk flour, cornstarch, baking powder, and salt. Set aside.

In a separate large bowl, add your browned butter and brown sugars. Whisk you have a smooth mixture with no lumps.

Next add your eggs and vanilla. Whisk the mixture vigorously making sure the eggs are fully combined. The mixture will lighten in color.

Now add you dry ingredients to the wet. Mix just until the flour has combined. Do not overmix. Fold in your pecans

Add the batter to your prepared dish and smooth into an even layer.

Drizzle your caramel sauce evenly over the batter.

Bake for about 35 minutes at 350F. The cookie bars are done when the edges are set and golden brown and a toothpick or skewer inserted into the center comes out mostly clean. Sprinkle with flaked salt.

Let the cookie bars cool in the pan for about an hour before removing and cutting.