Jump to Recipe
Every home baker needs a simple vanilla cake in their collection. One that is good enough to stand on its own, or easy enough to tweak for a new flavor profile. So I'm happy to share mine. I've use this recipe for years both as a go-to home recipe and as default recipe for my cake decorating business.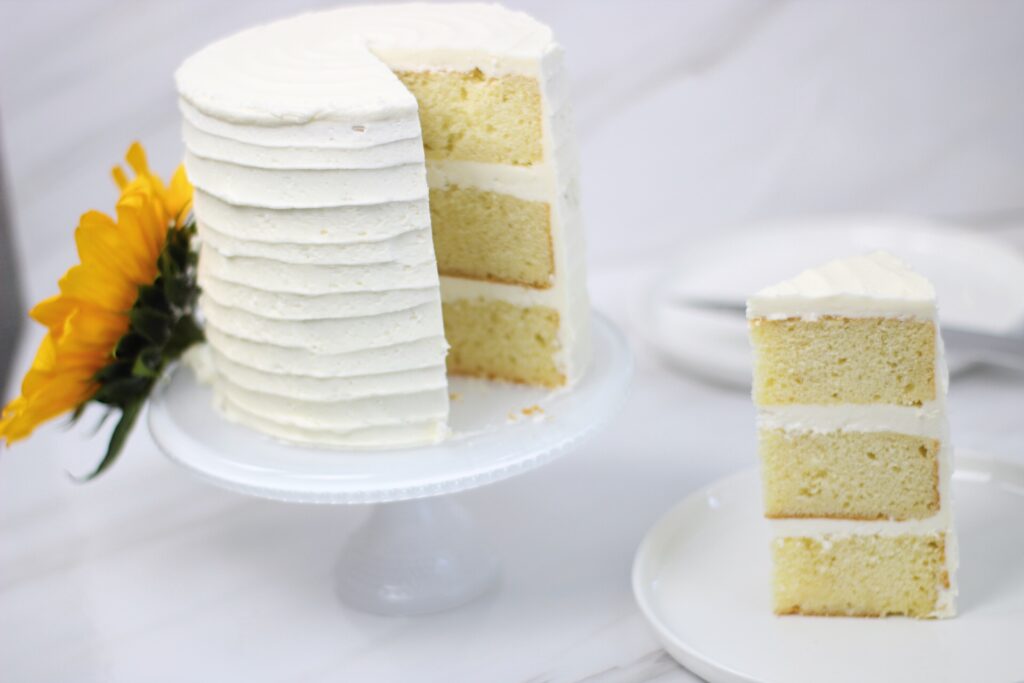 I'm not the biggest fan of frosting (I know, as a baker that's almost a criminal offense), so any cake I make needs to be delicious and moist without the extras. This recipe definitely fits the bill. It has a buttery, vanilla flavor without being too rich. And just the right amount of sweetness. The cake is soft and fluffy, but still has enough structure to be the base of a decorated layer cake. The addition of buttermilk helps with the soft crumb and retained moisture of the cake, but also adds to the complexity of the flavor. All in all, I think it's perfect (I might be bias since it's my recipe).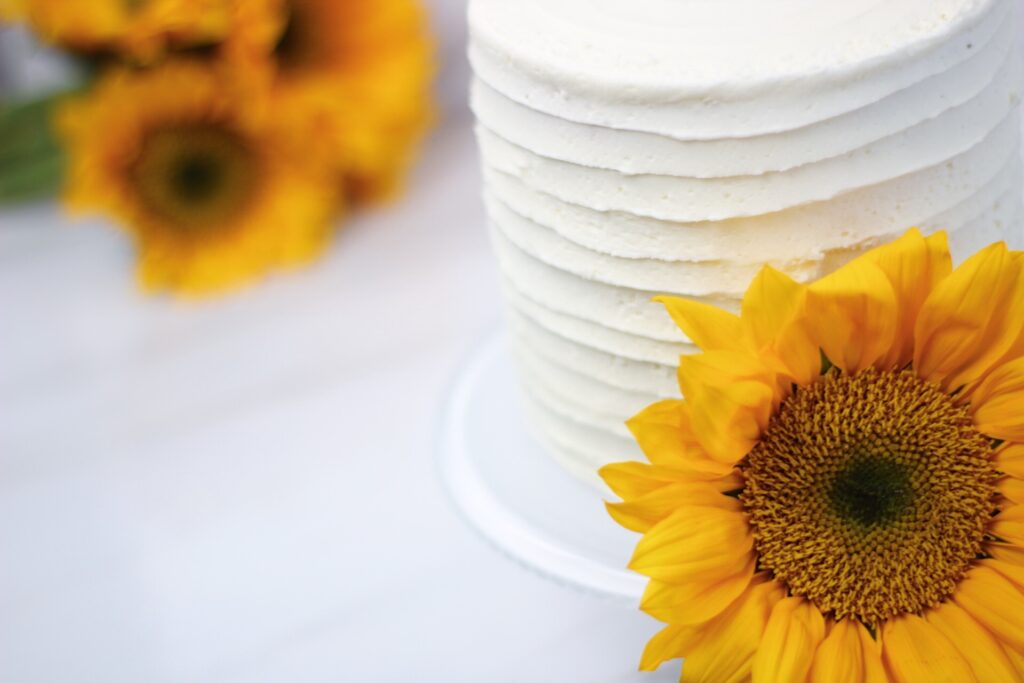 I paired this recipe with a simple American buttercream to keep with the them of simple. American buttercreams tend to be a bit sweet, so they aren't exactly my favorite. However since this cake is a little less sweet than some others, it pairs well with a typical buttercream. Later, we'll explore some other frostings that are a bit more work, but well worth it for the flavors.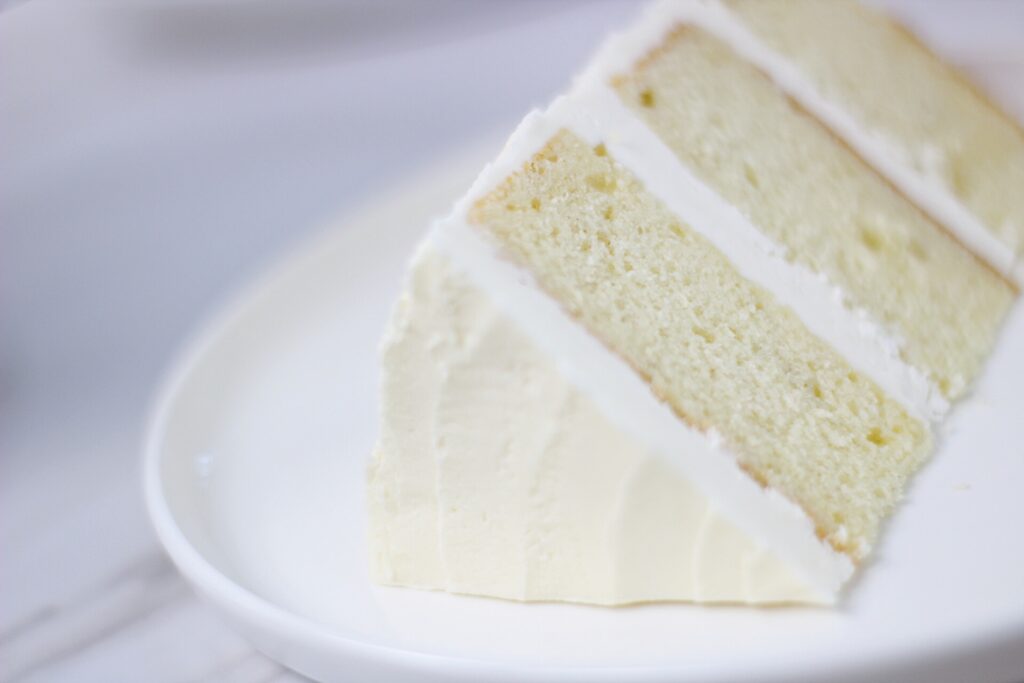 A few things to note:
Make sure all ingredients are room temperature. This helps the batter come together better and create an emulsion. Long story short, you get a light and fluffy cake.
Speaking of room temperature, it's especially important that your butter is room temperature. If it's too cold it could take longer to cream your butter/sugar mixture. If it's too warm or melty, the butter/sugar mixture won't cream. The creaming of these ingredients add air and help the cake rise.
The recipe calls for buttermilk, substitutions could change the texture and flavor of the cake. Buttermilk is an acid that helps the cake rise. It's tanginess also adds to the complexity of the cake's flavor. You can make the following substitutions and get a decent cake, it just won't be exactly the same, so keep this in mind.

1 cup milk plus 1 tablespoon of vinegar. Let mixture sit for 10 minutes.
1 cup plain yogurt.
3/4 cup greek yogurt plus 1/4 cup milk.

Vanilla is the star of this cake. So make sure you use a good one.
After frosting your cake, let it chill for about an hour. This makes it easier to cut without having the layers slide around.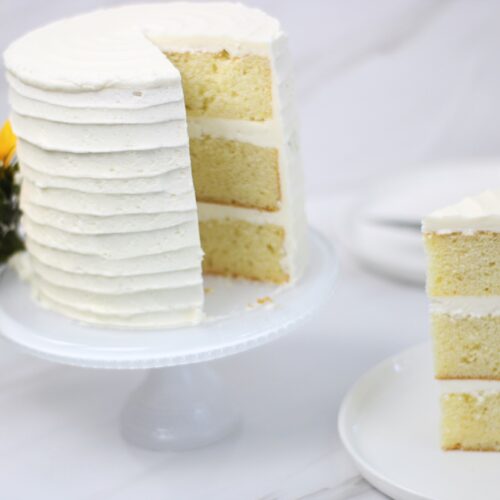 Simple Vanilla Cake
A simple yet delicious vanilla cake recipe.
Yields 3 6×2 inch pans or 2 8×2 inch pans.
Ingredients
Vanilla Cake
3

c

all purpose flour

1 1/4

tsp

baking powder

1/2

tsp

baking soda

3/4

tsp

salt

1

c

unsalted butter

room temperature

1 1/2

c

sugar

4

large eggs

room temperature

1

tbsp

vanilla extract

1

c

buttermilk

*can be substituted. See blog for details
Vanilla Buttercream
5

c

confectioner's sugar

1 1/2

c

unsalted butter

room temperature

2

tbsp

heavy cream

2

2 tsp

vanilla extract

1/8

tsp

salt
Instructions
Preheat oven to 350°F. Prepare baking pans with non-stick spray, or other pan release method.

In a large bowl, whisk together dry ingredients (flour, baking powder, baking soda, salt). Set aside.

Using a stand mixer (with paddle attachment) or a handheld mixer, cream butter and sugar on high speed until light and creamy. This should take about 3 minutes.

Add eggs and vanilla extract. Mix on high speed for about 2 minutes.

Add dry ingredients, mix on low speed until just barely combined.

Add buttermilk, mix on low speed until batter has come together. Careful not to over mix here.

Divide batter evenly into cake pans. Bake for about 35-40 minutes. *Bake time will vary if using cake pans other than those listed above. Your cakes are done if the middles spring back when you press them, or if a toothpick can be inserted and comes out clean.

Allow cakes pans to cool for about 5 minutes before removing cake. After removing cakes from pan allow to cool completely before frosting.
Vanilla Buttercream
Using a stand mixer with paddle attachment or a handheld mixer, cream butter until light and creamy. I usually mix for about 5 minutes.

Add confectioner's sugar, cream, vanilla extract, and salt. Mix on very slow speed. You may want to use a towel to cover you mixer to prevent sugar spraying out. Once the sugar has combined, increase speed to high and mix for 2-3 minutes.

If frosting is too thick add more milk, about a tsp at a time, until you reach the desired consistency. If it's too thin, add more confectioner's sugar. The consistency of the buttercream can change quickly so make these adjustments a little at a time and mix thoroughly.