Jump to Recipe
Just like we need a go-to vanilla cake, all baker's also need a go to chocolate cake, it's only right. And really, I don't think there are many things better than a good chocolate cake. It's literally the reason I even like cake at all. And this recipe is perfect. It's a deep chocolate flavor, just the right balance of density and fluffiness, it stays moist, and of course, it's delicious!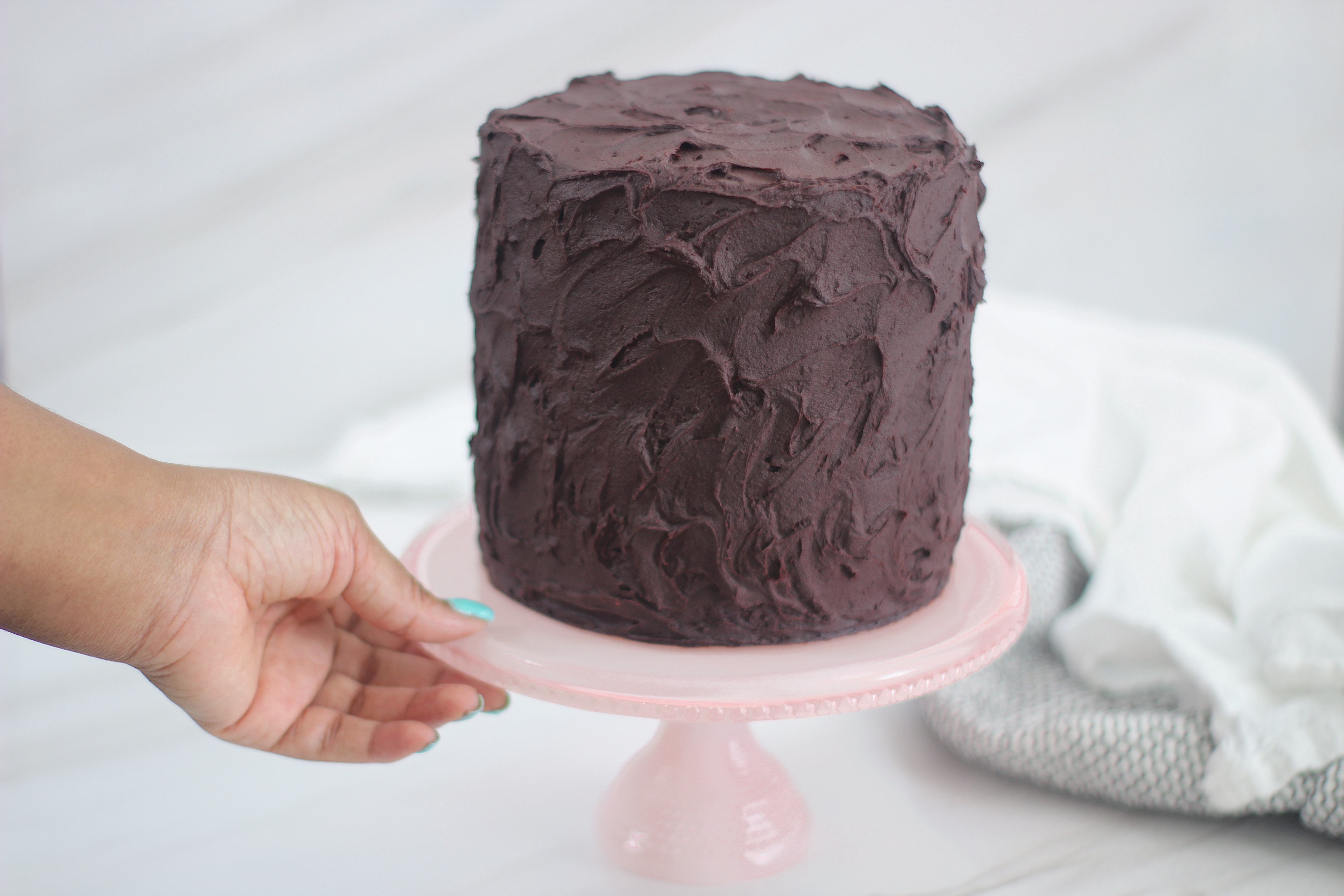 I realize that saying this is the ultimate recipe is a pretty big claim. But I can back it up. Have you ever seen someone take a bite of something and immediately they get quiet and you could tell it was one of the best things they'd ever eaten? That's what happens with this cake, every time. Really, I promise. I'm not just saying that because I made it. People that don't even like cake have raved about this one. It's honestly that good.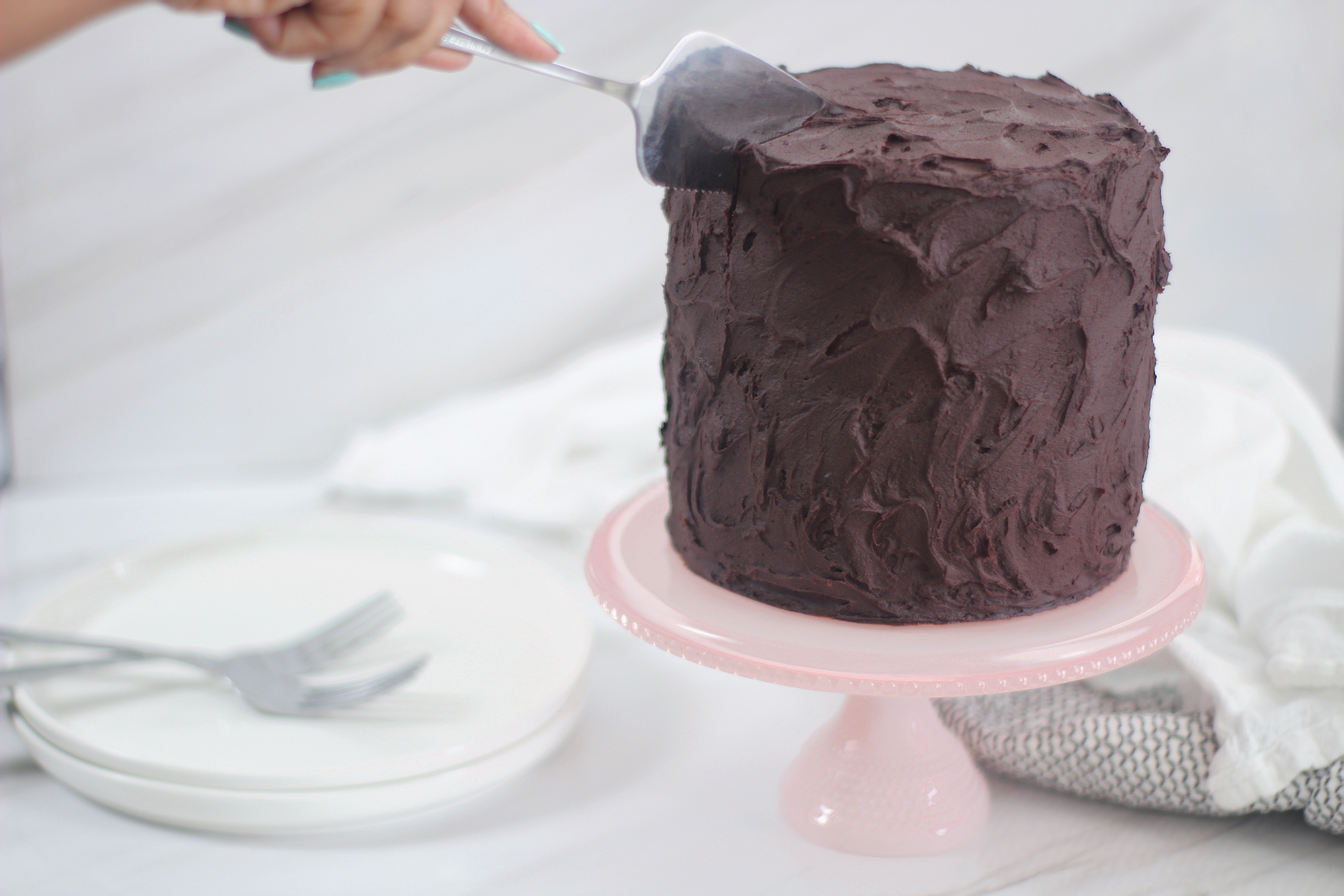 A lot of people tend to stay away from homemade chocolate cakes, because truth be told, they can be a little dry. Basically, cocoa powder soaks up the moisture in the cake, it's science, but we won't get into that right now. All you need to know is that in a chocolate cake recipe you need to have ingredients to counter that effect. This is why many chocolate cake recipes call for oil instead of butter and/or use buttermilk or sour cream instead of milk. For this recipe we're going with an oil and sour cream combo.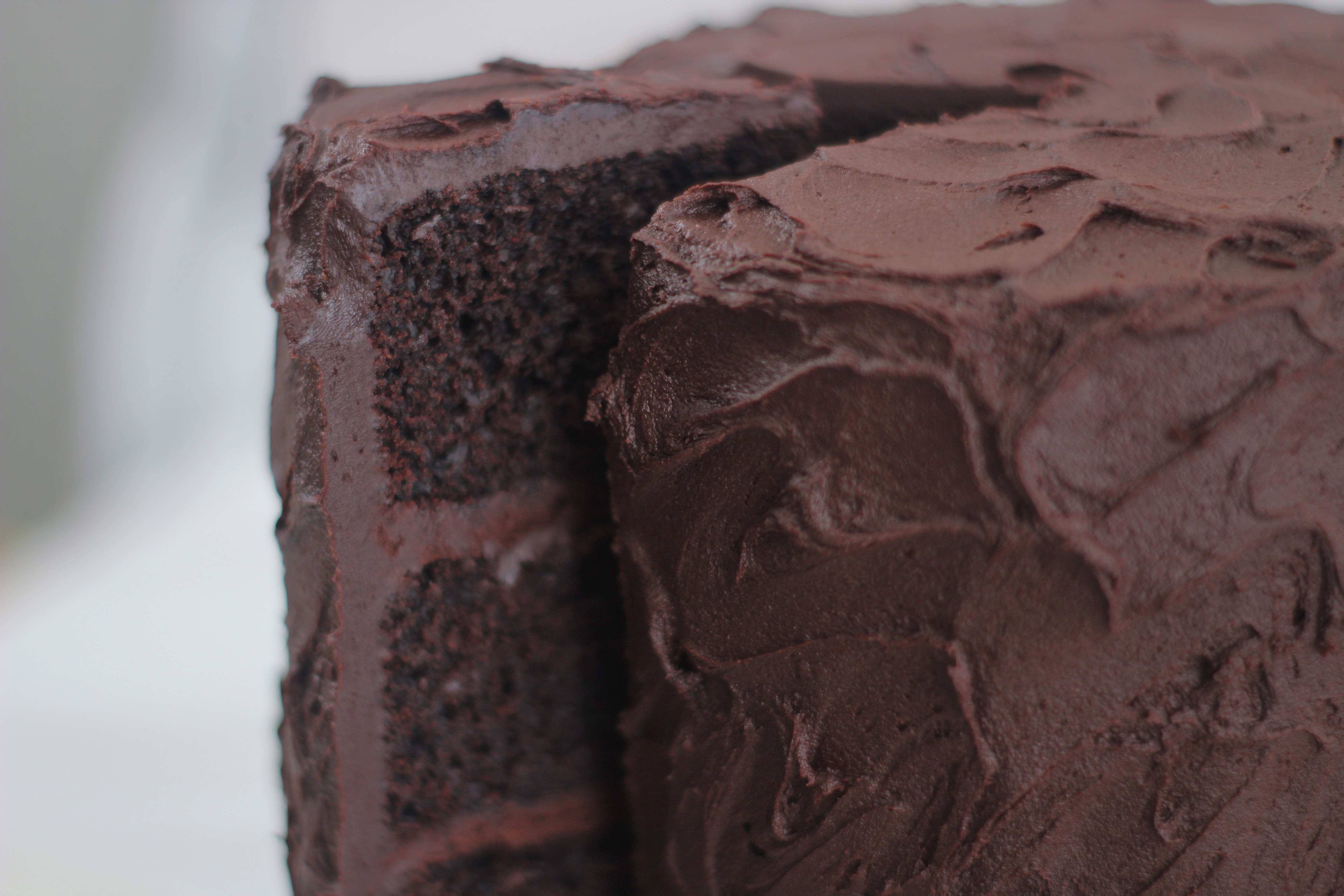 I'm pairing this chocolate cake with a chocolate cream cheese frosting. And just like the cake, it's divine. Remember in my Simple Vanilla Cake post I said I didn't love frosting. This one is the exception. The rich, velvety chocolate flavor make me forget any adverse feelings I've every had for frosting. My bias might be showing here just a bit, but trust me, it's delicious.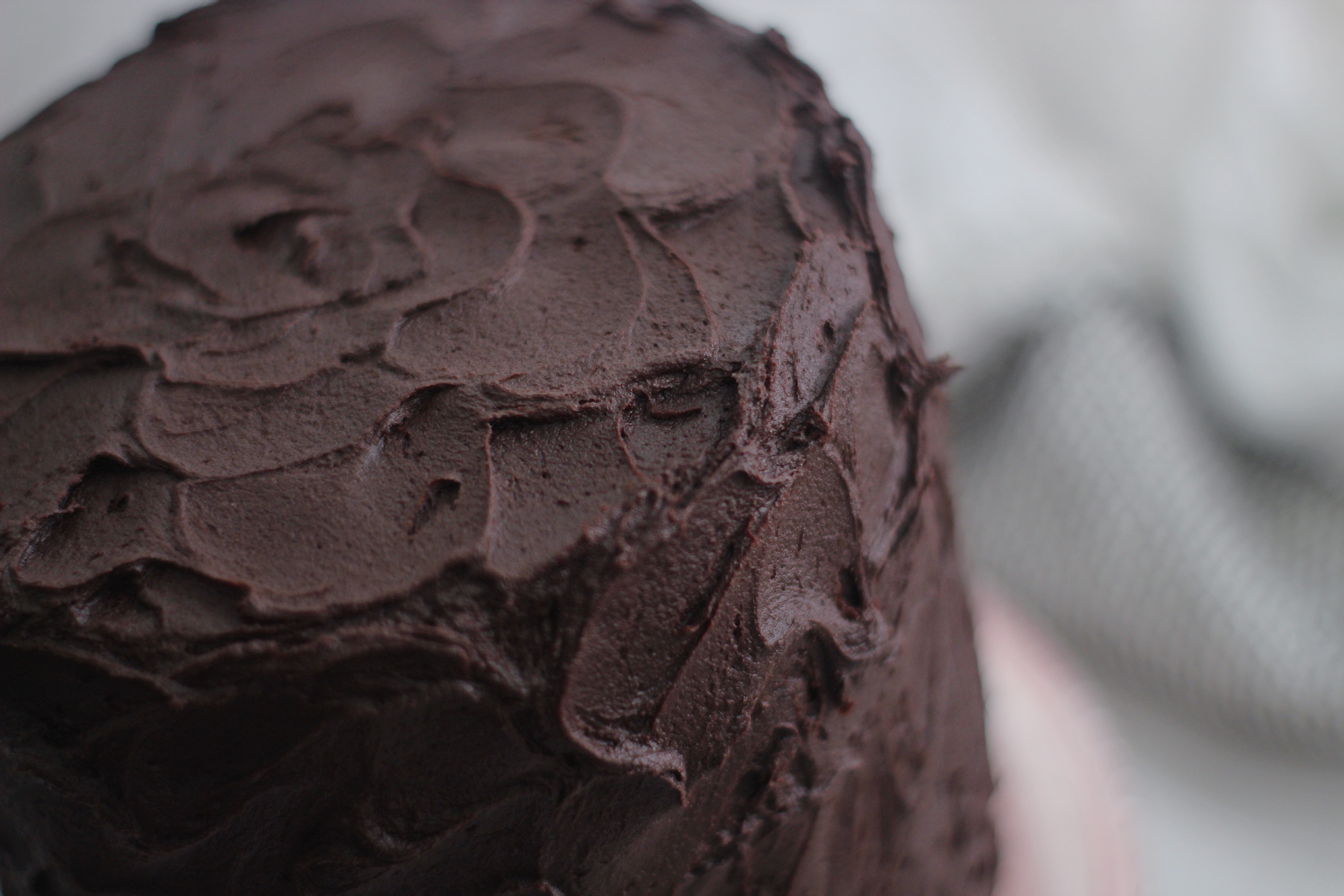 Before we dive into the recipe, a few things to keep in mind.
This recipe uses dutch processed cocoa powder (I use Hershey's Special Dark). It's basically dark chocolate, and gives a slightly deeper, but more mellow chocolate flavor. It's also important to note because the leaven properties differ from natural cocoa powder Again, it's a science thing. Luckily for you, in this recipe you can substitute natural cocoa powder if you absolutely have to. It'll change the flavor, texture, and color of your cake, but you'd still get a decent cake. (It's essentially a completely different cake. As a matter of fact, maybe one day I'll make it that way to show the difference, but that's not our focus today. We want deep, rich chocolate flavor, so use dutch- processed. Thanks)
We are using oil. This is going to help keep our cake moist. In a pinch you can use butter, but you're sacrificing
Use sour cream. It's going to help with keeping the cake moist, but the fat content also helps with the leavening. Basically your cake will be nice and soft (again, science). If you absolutely have to you can substitute with 1 cup of buttermilk or milk. Just remember, your cake come out as moist.
Hot coffee. We're adding this to help bring out the chocolate flavor. If you don't want to use coffee, just use hot water. It'll still help bring out that rich flavor.
Please don't over bake, we want this to stay moist. The recipe says 35 minutes. I'd start checking at around 30 minutes. You want to catch this just as the middle becomes springy.
As always, room temperature ingredients.
This is my all time favorite cake recipe and I'd really like you to not make substitutions if you can help it. I want you to have the full experience of this delicious chocolate cake. It's really for your own good.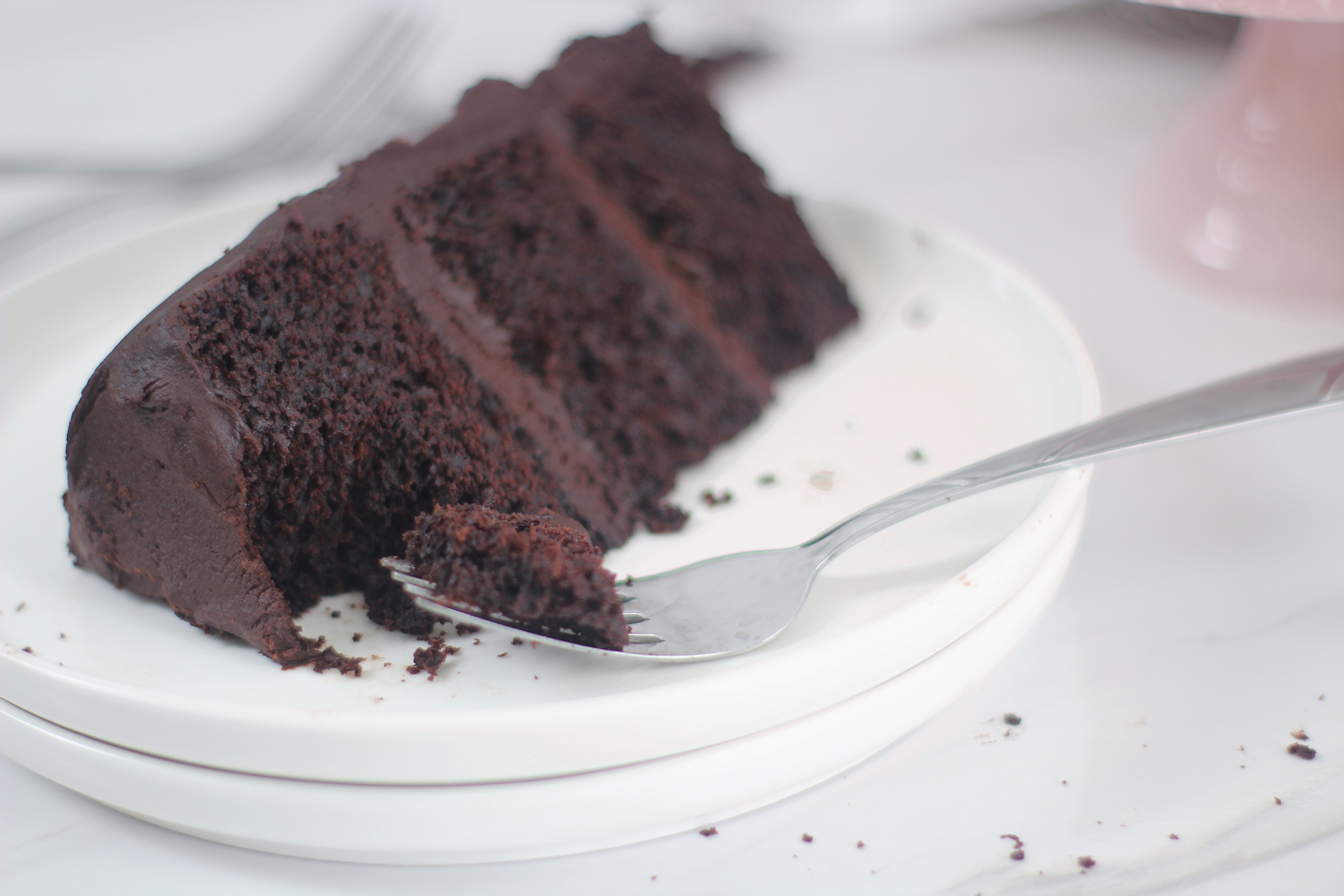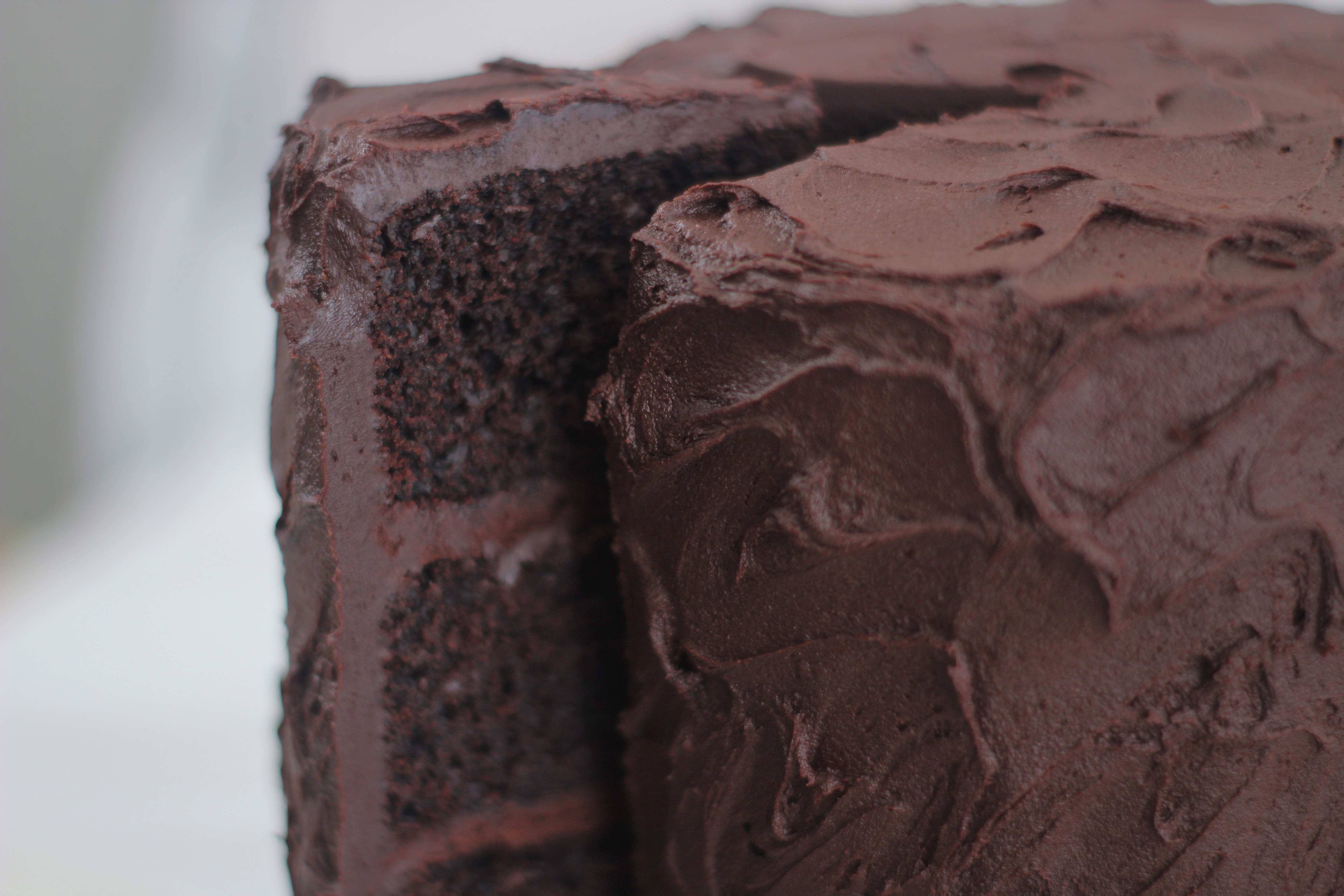 The Ultimate Chocolate Cake
The best chocolate cake you've ever had. Trust me.
Yields 3 6×2 inch or 2 8×2 inch pans.
Ingredients
Ultimate Chocolate Cake
2

c

all purpose flour

1 1/2

c

sugar

3/4

c

dutch processed cocoa powder

*can be substituted, see blog for details

2

tsp

baking powder

1 1/2

tsp

baking soda

3/4

tsp

salt

3/4

c

vegetable oil

2

tsp

vanilla extract

3

large eggs

room temperature

3/4

c

sour cream

room temperature * can be substituted, see blog for details

1/2

c

hot brewed coffee

* can be substituted, see blog for details
Chocolate Cream Cheese Frosting
1 1/2

c

unsalted butter

room temperature

1/2

c

cream cheese (4oz)

room temperature

1

c

dutch processed cocoa powder

4

c

confectioner's sugar

3

tsp

heavy cream

*can be substituted for milk or water

2

tsp

vanilla extract

3/4

tsp

salt
Instructions
Ultimate Chocolate Cake
Preheat oven to 350°F. Prepare baking pans with non-stick spray or other pan release method.

In large bowl, mix flour, sugar, cocoa powder, baking powder, baking soda, and salt. (I use my stand mixer on the lowest speed for this.)

In a separate bowl, whisk oil, vanilla, eggs, and sour cream. Whisk until eggs are fully beaten and mixture is creamy and a pale yellow.

Pour oil mixture into dry ingredients. Mix until the dry ingredients are incorporated and there are no lumps. With a stand mixer, beat for about 1 minute on the lowest speed.

Add hot coffee to batter. This will make it a bit sloshy, mix until batter smooths out again. About a minute.

Divide batter evenly into cake pans. Bake for about 30-35 minutes. You don't want this to over bake, so keep a close eye on it.

*Bake time will vary if using cake pans other than those listed above. Your cakes are done if the middles spring back when you press them, or if a toothpick can be inserted and comes out clean.

Allow cakes pans to cool for about 5 minutes before removing cake. After removing cakes from pan allow to cool completely before frosting.
Chocolate Cream Cheese Frosting
Using a stand mixer with paddle attachment or a handheld mixer, cream butter and cream cheese until light and creamy. About 5 minutes.

Add confectioner's sugar, cream, vanilla extract, and salt. Mix on very slow speed. You may want to use a towel to cover you mixer to prevent sugar spraying out. Once the sugar has combined, increase speed to high and mix for 2-3 minutes.

If frosting is too thick add more cream, about a tsp at a time, until you reach the desired consistency. If it's too thin, add more confectioner's sugar. The consistency of the buttercream can change quickly so make these adjustments a little at a time and mix thoroughly.